'No place to put them': Overwhelmed hospitals brace for COVID crunch
Saskatchewan's hospitals are already slammed. Doctors worry a meaningful rise in COVID-19 hospitalizations could tip the balance.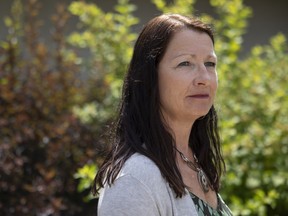 Article content
Saskatchewan's next wave of COVID-19 could tip the balance at hospital wards that are already well beyond their maximum capacity.
Article content
Internal Saskatchewan Health Authority memos obtained by the Saskatoon StarPhoenix show the province's hospital beds are the fullest they have ever been over the course of the COVID-19 pandemic, discounting intensive care units, even though the number of actual patients with COVID-19 is fairly low.
Doctors and union leaders worry an uptick in COVID-19 hospitalizations would thus add a burden to hospitals that are already struggling to care for their patients — or even force them to once again postpone certain surgeries to free up staff.
"To be honest with you, the only thing that can be done to be able to look after a potential increase of COVID admissions is by cancelling, in my opinion, some elective procedures or surgeries. Because you cannot send patients home from the emergency room," Saskatchewan Health Authority medicine head Dr. Haissam Haddad said.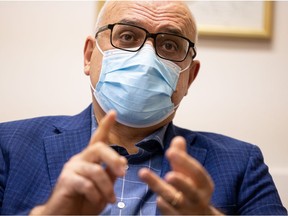 "I hope this will not happen. This will be alarming."
In Saskatoon, internal medicine beds were running at 140 per cent capacity on Friday, Haddad said. Medicine beds are so full that internal SHA documents said 105 patients were "off-service" on July 20, meaning they were being cared for by staff in surgical and emergency departments on top of their other duties.
The same report found Regina and Saskatoon's medicine units were collectively at 123 per cent capacity, of which 16.6 per cent were patients with COVID-19.
Despite those relatively small figures, Haddad said Saskatoon's medicine units have been overcapacity for months, due to a combination of staff shortages and an influx of patients.
Article content
We have to remember, we have two and a half years of a backlog of people with other illness who possibly haven't been able to get the treatment they need," said Denise Dick, the first vice-president of the Saskatchewan Union of Nurses.
She and Haddad worry about a spike in COVID-19 hospitalizations that will only make that problem worse.

An epidemiological report released Thursday showed infections and hospital admissions related to COVID-19 have increased in recent weeks. The data suggest the rapid spread of BA.5, an iteration of the Omicron variant of COVID-19, has caused the number of infections to rise.
This week, the Saskatchewan Roughriders were forced to postpone a planned Saturday game after 10 players caught COVID-19 this month. Dr. Julie Kryzanowski, the province's deputy medical health officer, said Wednesday that those rising infection numbers are beginning to translate into hospitalizations.
Kryzanowski said it's unclear how severe the wave will be. Unlike previous surges of COVID-19, Saskatchewan can now vaccinate every resident aged six months and older. And about half of adults have a third "booster" dose that is shown to protect against hospitalization.
But about 96 per cent of people who have received that third dose did so at least four months ago, meaning immunity is beginning to wane, according to an internal SHA presentation. And about one in five residents has not received a COVID-19 vaccine at all — worse than any other province.
Article content
"The way the system is now, the overcapacity it is running already, if there was a huge influx, I don't know what would happen. There's no place to put them and there's no one to care for them," Dick said.
The StarPhoenix requested an interview with Health Minister Paul Merriman. The Ministry of Health instead sent an unattributed statement saying COVID-19 surge plans can still be deployed as needed.
"Medicine beds at our largest facilities often experience increased pressures and may be over capacity at any time. This is not new to the system and similar pressures have been seen across the country," the statement said.
Haddad believes the province should permanently increase the number of acute care beds and the staff that comes with it. He said the current workload is grinding down morale and cannot continue.
"We can handle being overrun for a few weeks or a few months," Haddad said. "But not forever."
zvescera@postmedia.com
twitter.com/zakvescera
The news seems to be flying at us faster all the time. From COVID-19 updates to politics and crime and everything in between, it can be hard to keep up. With that in mind, the Saskatoon StarPhoenix has created an Afternoon Headlines newsletter that can be delivered daily to your inbox to help make sure you are up to date with the most vital news of the day. Click here to subscribe.