COVID in California: Wrist trackers can detect virus before symptoms appear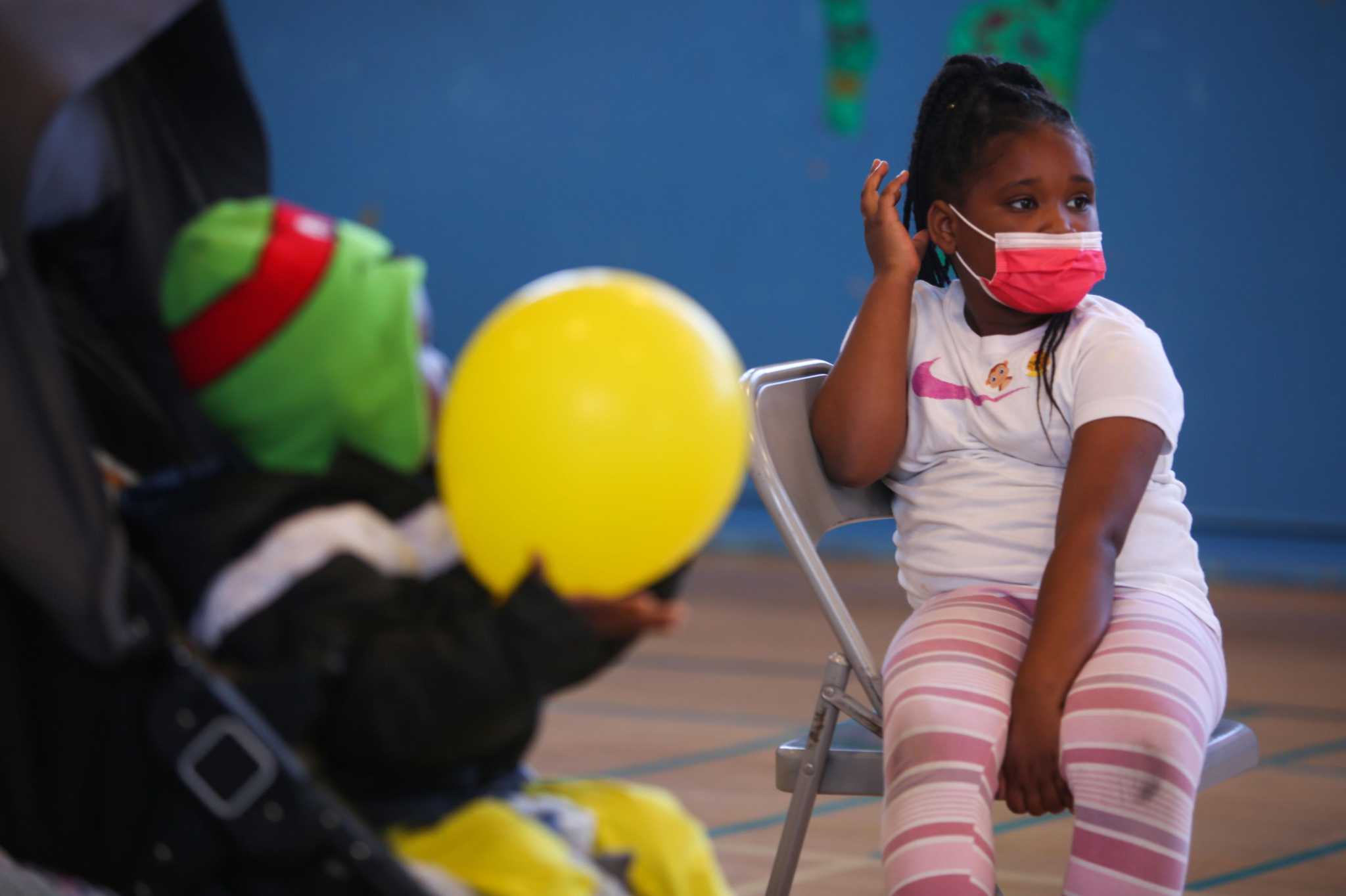 Gov. Newsom rolls back more pandemic executive orders
Gov. Gavin Newsom on Friday lifted several of California's remaining pandemic-related executive order provisions while maintaining the COVID-19 state of emergency. Fifteen additional provisions are set to expire on June 30, after which only 5% of the executive order provisions issued throughout the pandemic will remain in place, according to his office. "As California navigates the evolving pandemic, the state remains laser-focused on keeping Californians safe while advancing our ongoing recovery," Newsom said in a statement. "We're continuing to deploy proven strategies and programs that allow us to swiftly and effectively respond to changing pandemic conditions, take on equity gaps, and keep us moving forward."
Bay Area infants and toddlers start getting COVID shots Tuesday
Tuesday marked the first day that infants and toddlers 6 months to 4 years old could get vaccinated against COVID-19, following federal and state approvals for the Moderna and Pfizer vaccines over the weekend. Inside Exposition Hall at the Santa Clara County Fairgrounds on a sweltering afternoon, one-year-old Bert Avina helped make history: he became one of the first babies in the Bay Area to get his COVID-19 vaccine. Read more about the long-awaited roll-out of vaccines to the last age group in America to become eligible for the life-saving shots.
S.F. joins Bay Area counties in making vaccine available to younger children
The COVID-19 vaccine is now available for children ages 6 months to 4 years in San Francisco, the health department announced Tuesday. Officials are urging families to seek appointments for shots through their health care providers or local pharmacies, or seek out available times via myturn.ca.gov. The city will also offer families access to the vaccine at select neighborhood sites starting Wednesday. "We are excited to be closing the last remaining gap in vaccinations for children under 5," said Dr. Grant Colfax, the city's health director, in a statement. "This is an important moment for the nearly 40,000 eligible children in San Francisco who can now receive the best defense against the virus and protect family members and others who may be medically vulnerable." About 75% for children ages 5 to 11, and over 90% for those 12-17 in San Francisco are fully vaccinated.
Wrist trackers can detect COVID before symptoms appear, study finds
Researchers are hoping the same technology used in wearable health trackers can be used to detect COVID-19 before symptoms appear by monitoring similar vital signs, including breathing rate, heart rate, and skin temperature. A preliminary study shows that is possible by combining data gathered from a popular wrist-worn fertility monitor with artificial intelligence technology on a smartphone app, according to the Guardian. "Wearable sensor technology can enable COVID-19 detection during the presymptomatic period," the researchers from the Dr. Risch Medical Laboratory in Liechtenstein concluded. The study of 1,163 people under the age of 51, published in the journal BMJ Open, found there were significant changes in the body during the coronavirus incubation period before symptoms appeared compared to a lack of infection.
Number of people willing to see a movie in a theater hits pandemic high
About 88% of moviegoers are "very or somewhat comfortable" returning to theaters, according to the latest data from Nielsen's National Research Group released by the National Association of Theatre Owners. That is substantially higher than the 65% reported in January during the omicron winter surge and represents the highest level of comfort since the start of the COVID-19 pandemic, Deadline reports. About 55% of the survey respondents said they feel the COVID situation is "getting better" despite most of the U.S. having a high level of community transmission, according to the CDC.
Recent BA.2 infection unlikely to protect against BA.4 and BA.5, report says
Those who were recently infected with the BA.2 and BA.2.12.1 omicron subvariants are unlikely to have protection against the rapidly spreading BA.4 and BA.5 sublineages of the virus, according to a report posted Tuesday on MedPage Today. "It's expected that there's probably not much cross-protection between them," Dr. Amesh Adalja, an infectious disease physician at the Johns Hopkins Center for Health Security told researchers from the medical journal. Substantial genetic changes in the number and type of mutations in the receptor-binding domain of the spike protein of the virus increase the chances of reinfection with the newer variants, as does the time since last infection, the experts said. Data suggest the period of immunity is getting shorter with each new variant but Adalja said barring definitive studies how soon someone becomes vulnerable to reinfection "probably varies from person to person."
Children's COVID cases 10 times higher than last summer
There were 83,451 child COVID-19 cases reported in the U.S. last week, according to data published Tuesday by the American Academy of Pediatrics and the Children's Hospital Association. The number of infections, which has remained stable since the beginning of June after rising steadily over the two previous months, is about 10 times higher than the 8,447 child COVID cases reported in the same week last year.
Biden visits clinic, celebrates COVID shots for kids under 5
President Joe Biden visited a vaccination clinic Tuesday to celebrate that virtually all Americans can now get a COVID-19 shot Tuesday after the authorization of vaccines for kids under 5 over the weekend. The Associated Press reports that while anyone aged six months and up is now eligible for vaccines, the administration cautioned that it expects the pace of shots for the youngest kids to be slower than older ones, as parents are more likely to rely on their children's pediatricians to administer them. "We're the only country in the world doing this right now," Biden said, as he and first lady Jill Biden met with newly vaccinated kids and their parents at Church of the Holy Communion in southeast Washington. As he handed out hugs to kids, Biden spoke of his youngest grandson, Beau, aged two, being newly eligible for vaccination. "Everybody knows I like kids better than people," he joked.
Broadway theaters to make masks optional beginning in July
Beginning July 1, all 41 Broadway theaters in New York City will make mask wearing optional, a trade association representing the venues announced Tuesday. The Broadway League said in a statement that it will continue to recommend that guests wear masks at its shows regardless of vaccination status, with plans to reassess the mandate monthly. "We're thrilled to welcome even more of our passionate fans back to Broadway in the exciting 22-23 season that has just begun," Charlotte St. Martin, the organization's president, said in a statement. Ticket sales on Broadway were down more than 50% in the 2021 to 2022 season, according to industry reports, with many shows forced to cancel performances due to COVID outbreaks in their casts. New York City health officials also downgraded the COVID risk level across all five boroughs from high to medium on Tuesday.
BART ridership for Warriors parade was highest since start of pandemic
BART reported its highest single day ridership since March 2020 on Monday, as Bay Area residents streamed into downtown San Francisco for the Golden State Warriors' championship parade. The transit agency said in a statement posted to social media that it had 190,519 documented riders, adding that many riders were not counted because of long lines and a Clipper card shortage. That number still falls short of the 568,068 people who rode BART trains for the 2012 San Francisco Giants World Series victory parade and 551,000 people for the Warriors' 2015 championship parade. The agency added that ridership on a typical weekday before the pandemic was about 400,000. Read more about how the Warriors parade helped boost BART ridership to a new post-pandemic high.
U.N. moves summit to Canada due to China anti-virus policies
A United Nations summit on biodiversity will be held in Canada instead of China, organizers announced Tuesday, the second major international event to be moved from China because of its strict anti-coronavirus policies. The U.N. secretariat for the Convention on Biological Diversity said the meeting will be held in December in Montreal. China, chair of this round of meetings, decided to move them outside of the country "due to the continued uncertainties related to the ongoing global pandemic," the executive secretary of the convention said. The Chinese environment ministry said the decision was made "after comprehensively considering the pandemic situation at home and abroad." China withdrew last month as host of soccer's 2023 Asian Cup.
Staff shortages spur thousands of holiday-weekend flight cancellations
At least 14,000 domestic flights were canceled or delayed in the United States during the Juneteenth holiday weekend, partially due to staffing issues, CBS News reports. A spokesperson for Delta, among the airlines with the most cancellations, said, "A variety of factors continue to impact our operations, including challenges with air traffic control, weather and unscheduled absences in some work groups." Department of Transportation Secretary Pete Buttigieg met with airline executives on Friday and urged them to hire more customer-service workers, threatening fines if they do not meet a July 4 deadline for staffing up.
Infections remain roughly level in California
California is reporting about 36 new daily coronavirus cases per 100,000 residents, a number that has not dipped significantly since the beginning of June. The numbers do not include results of widely used home tests that are not reported to officials, nor cases that simply go undetected. Santa Clara County and San Francisco are reporting the highest level of infections in the state, with 50 and 48 new daily cases per 100,000 residents, respectively. The coronavirus test positivity rate in California has increased to 11.4%, according to state data published Tuesday. The test positive rate, which tracks the percentage of tests coming back positive for COVID-19, is up 2.7 percentage points from the previous seven-day average.
California COVID-19 hospitalizations and deaths on the rise
While reported COVID-19 infections are stable in California, hospitalizations and deaths are increasing, state data shows. There are 2,862 patients hospitalized with COVID-19 across the state, across marking a 27% rise from the previous 14-day average, according to state data published Tuesday. About 15 Californians are dying daily with COVID-19, nearly double the average reported last week.
Charity donations resume patterns similar to those before pandemic
Charitable giving in the United States reached a record $485 billion in 2021, a year when giving patterns appeared to return to pre-pandemic patterns, according to a report Tuesday on American philanthropy. The Giving USA report says donations in 2021 were 4% higher than the record-setting $466 billion contributed in 2020, although down 0.7% when adjusted for inflation. Laura MacDonald, chair of the Giving USA Foundation chair, giving increased in unusual ways in 2020 due to needs early in the COVID-19 pandemic, as well as the calls for racial justice, but now has generally returned to previous patterns, with many donors in 2021 returning to their favored causes.
Jeopardy! host infected
Mayim Bialik said Monday that she has tested positive for COVID-19. The Jeopardy! host revealed her diagnosis on Instagram, calling the disease "no joke" even though she is vaccinated and boosted. "It's very exhausting, the exhaustion is very special," the 46-year-old actor said. "I had mononucleosis when I was in college and the exhaustion hits like that where you cannot be awake, you can try to be awake but then all of a sudden you need to sleep. … I'm feeling a whole bunch of regret that I ever took my mask off ever in the world, like even outside" she added. "I'm feeling a lot of fear. Why did I ever go out? Why did I think that anything was fine ever? Please be careful."
Biden's national security advisor infected
White House National Security Adviser Jake Sullivan tested positive for COVID-19 on Saturday, a spokesperson said. Sullivan was asymptomatic, according to NSC spokesperson Adrienne Watson, and had not been in close contact with the President Biden.
Sullivan met Friday with the foreign minister of Senegal about Ukraine and food security issues, the White House said.
Omicron subvariants shifting in dominance
The BA.4 and BA.5 sublineages of the coronavirus omicron variant are gaining strength as a percentage of COVID cases nationwide, now accounting for more than 1 in 3 infections, CDC data shows. The BA.2.12.1 omicron subvariant is still more than half of the cases, at 56%, but has dropped from 63% of cases over the week that ended Saturday. The omicron strain and its subvariants have proven to be significantly more infectious than earlier strains of the coronavirus, but they typically do not cause as severe illness.
COVID death rate across U.S. near pandemic low
Despite the potent infection rate of the omicron surge, people are dying of COVID-19 across the U.S. at a rate close to the lowest of the pandemic. The pattern has changed from the first two years of the pandemic when a predictable pattern saw deaths reliably rising a few weeks after any rise in infections. Now, however, more people are vaccinated or have some antibody protection from having been infected, making the nation better fortified against deaths. The virus' toll nonetheless continued with older adults bearing the heaviest burden and COVID still killing an average of 314 Americans daily, more than twice as many as daily suicides or car crash deaths, the New York Times reports. Still, the daily COVID deaths are one-tenth the number in January 2021.
If you still haven't gotten COVID after the latest surge, what are the odds you never will?
In March of this year — about two years after the COVID-19 pandemic took over the U.S. — The Chronicle asked Bay Area experts: Is getting COVID inevitable? Since then, omicron's subvariants have sent case numbers soaring across the world once again, with even some who had dodged the coronavirus for two years getting infected, and some even getting reinfected. That led to a recent follow-up with the same experts, who this time were asked: For those still uninfected, have the chances of avoiding COVID diminished, or perhaps dwindled to nothing?