COVID in California: Moderna asks FDA to authorize boosters for young children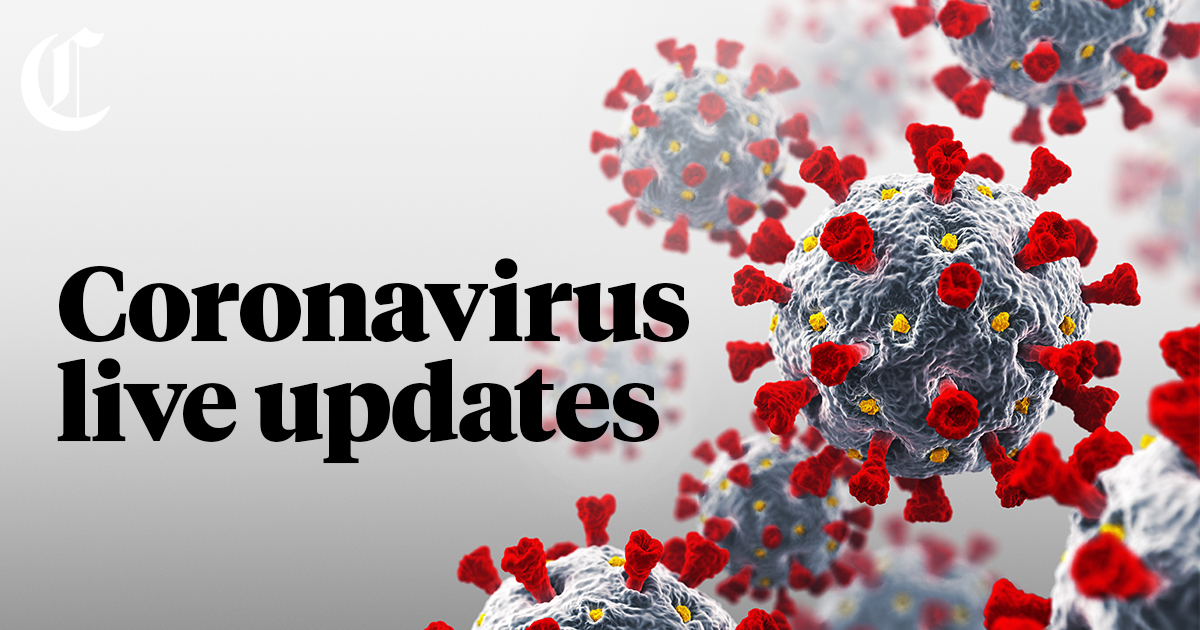 Threat of BA.2.75 grows as newer virus variants gain on BA.5
The omicron BA.5 subvariant is slowly becoming less dominant in the U.S. as other lineages of the virus gain ground, according to data published Friday by the U.S. Centers for Disease Control and Prevention. BA.5 now makes up an estimated 83% of sequenced cases, down from 87% a month ago. Newer virus versions continue to rise, with BA.4.6 at 11.9%, BF.7 at 2.3%, and BA.2.75 at 1.4%. Public health experts believe those strains may have mutations that can help them evade immunity and could make some COVID-19 treatments ineffective. "We are monitoring these closely here and around the world," said Dr. Cyrus Shahpar, the White House COVID-19 Data Director, who noted that the new bivalent boosters increase protection against omicron subtypes.
Dr. Larry Brilliant, the Bay Area epidemiologist who has worked to eradicate smallpox and polio, added in a tweet, "BA.2.75.2 is the variant that I'm watching with concern as we enter the fall and winter. It has already reached nearly one-quarter of sequencings in my area in Northern California, probably largely due to re-infecting people who had COVID or who were vaccinated much earlier." BA.2.75.2 showed "profound escape" in studies of serum from recovered COVID patients, evading the antibodies produced from prior infections, and raising "concerns that it may effectively evade humoral immunity in the population," according to a tweet from former FDA chief Scott Gottlieb.
Moderna asks FDA to authorize boosters for young children
Pharmaceutical maker Moderna has asked the Food and Drug Administration to authorize its omicron booster shots for children, the company announced on Friday. Moderna said it has submitted two requests for emergency use authorization: one for its omicron-targeting bivalent booster in children and adolescents 12 to 17 years of age and a second for children ages 6 to 11 years old. The company said the application for children ages 6 months to under 6 years is expected to be completed later this year.
Paxlovid benefits adults younger than 65, says new study
The COVID antiviral pill Paxlovid benefits people under 65 years old by reducing hospitalization and death, according to a study published Thursday by Epic Research, an arm of the electronic health records company Epic. The findings are noteworthy because previous studies indicate Paxlovid benefits people 65 and older but does not have a clear benefit for younger adults. The Epic research found that people across several age groups who received Paxlovid — 18 to 39, 40 to 49, 60 to 64, and 65 and older — were less likely to be hospitalized than people who did not receive the drug. Patients in all age groups who received Paxlovid were also less likely to die than those who did receive the drug, with the exception of those 18 to 39, where the difference was not significant. The study analyzed about 568,000 people who could have received Paxlovid between March and August 2022, including roughly 146,000 people who received the drug and 421,000 people who did not.
Federal early childhood program to drop mask requirement
The U.S. Department of Health and Human Services announced this week that it intends to publish a final rule that will formally remove the requirement for universal masking in Head Start early childhood and learning programs nationwide. "This will align Head Start program masking requirements more closely with the updated Centers for Disease Control and Prevention guidance," the agency said in an update. It added that the Office of Head Start has not monitored mask use at Head Start programs since February 2022 and will continue to not monitor for mask use until the rule is lifted.
Sudden rise in U.K. cases and hospitalizations could be warning for U.S.
The United Kingdom may be on the verge of its fall coronavirus surge, with COVID trends abruptly on the rise. England reported a 17% increase in the number of COVID hospitalizations last week, according to the latest NHS figures analyzed by the Guardian. COVID cases are also up across the country, with 766,500 estimated new infections reported, up from 705,800 the week before, according to data from the Office for National Statistics. It marks the first time since late July that England has recorded an increase, with a similar trend observed in Wales. For the U.S., which has closely followed trends abroad in the past, that could mean an uptick soon, especially with newer virus variants in circulation, waning immunity, and more indoor gatherings. "For alpha, delta, omicron, what accelerated in the U.K. was then reproduced in the U.S.," cautioned Peter Hotez, a vaccine scientist at Baylor College of Medicine. "It's not necessarily the case this time around, but be careful about complacency." In an overview of COVID trends across the continent, the European Centre for Disease Prevention and Control said it has observed increasing transmission over the past two weeks.
L.A. County drops nearly all mask rules
Public health officials in Los Angeles County drastically scaled back their COVID-19 masking rules on Friday. The county lifted its local health order requiring masking while aboard public transit or inside transportation hubs, such as airports. It also aligned with state rules for masking in other public settings, shifting indoor mandate to personal preference unless required by the site. Correctional facilities and shelters additionally can make masks optional when COVID-19 levels are low and there have been no recent outbreaks. The county was among the last in the nation to have widespread indoor mask requirements in place. Los Angeles County is averaging 14 daily coronavirus cases per 100,000 residents, slightly higher than California's statewide average of 11 per 100,000.
"Blood on your hands" if you think pandemic is over, senior WHO official says
A senior official with the World Health Organization is the latest to strongly criticize President Biden's "the pandemic is over" remark. In an interview with Reuters, WHO senior adviser Bruce Aylward said that by giving up their efforts against COVID-19, wealthier nations are putting the rest of the world at risk for potentially devastating future surges. He also dismissed WHO Director-General Tedros Adhanom Ghebreyesus' comment that the end of the pandemic was in sight. "When I hear them say, 'Well, we're so comfortable here,' it's like, 'Great, now you can really help us get the rest of the world done?'" Aylward said. He said his team, which helps poorer countries access COVID-19 tools, is still in the emergency phase of the pandemic. "If you go to sleep right now and this wave hits us in three months — God, blood on your hands," he said.
Army reports 97% vaccination rate for active duty members
Following a report from the Department of the Air Force earlier this week that showed 97.4% of the total force is fully vaccinated against COVID-19, the Army has released figures that show similar coverage. The department's latest statistics show 97% of active duty service members are fully vaccinated, as well as 90% of Army National Guard members and 91% of Army Reserve. In July, Secretary of Defense said service members who refused to get vaccinated without a temporary or permanent exemption may not participate in federally funded drills, training, and other duty nor receive payment or retirement credit. "Maintaining readiness continues to be among the Army's highest priorities, and the COVID-19 vaccine helps ensure soldiers are ready," the agency said in its update.
"Dancing With The Stars" hit with COVID outbreak after season premiere
At least four crew members have tested positive after the 31st season of Dancing With the Stars made its Disney+ premiere on Monday, according to the entertainment industry news site Deadline. A spokesperson for the show confirmed the infections and said the individuals work in "completely different departments that do not have in-person contact with each other, based on our pod system." The show's producers have notified close contacts and increased testing cadence on set, the report said. The show employs about 300 people. The spokesperson said that the show has received clearance from the health department to continue filming and the "entire set has been disinfected and as an extra precaution, we asked the majority of employees to work from home."
Slow rollout for bivalent boosters in the U.S.
About 4.4 million doses of the updated COVID-19 booster shots have been administered in the U.S. out of the over 25 million doses distributed, according to data from the U.S. Centers for Disease Control and Prevention. Weeks into the government's new vaccination campaign, few Americans are rushing to get the shots from Pfizer/BioNTech and Moderna designed to work against the omicron BA.5 and BA.4 sublineages. The health agency's COVID data tracker was updated on Friday to include the national count of the number of people with an updated booster dose.
Opinion: The COVID pandemic isn't over for me and millions of others
In an interview broadcast Sunday on "60 Minutes," President Biden walked the showroom floor at the Detroit Auto Show and declared, "The pandemic is over." Berkeley marketing consultant and writer Effie Seiberg was not pleased. "As a person who is at high risk for COVID-19, whose life continues to be more limited than it ever was before the pandemic, the remarks hit me like a gut punch," she writes in a Chronicle op-ed. A couple of days later, she notes, the president attempted to clarify his comments. But for Seiberg and millions of other people with long COVID and myalgic encephalomyelitis/chronic fatigue syndrome (ME/CFS), "president's comments show a complete disconnect from the reality that high-risk folks continue to live in."
BART to end mask mandate on Oct. 1
The BART Board of Directors voted to end the rail agency's mask mandate on trains and stations as of Oct. 1. A resolution passed Thursday by the transit board gives BART General Manager Bob Powers the authority to bring back a mask mandate under specific public-health conditions. The agency still recommends riders wear masks on BART transit, though compliance has waned in recent months.
Senate Republicans to force vote on ending COVID emergency declaration: WSJ
Republican Sen. Roger Marshall of Kansas plans to force a vote on ending the national COVID-19 emergency declaration following President Biden's off-the-cuff comment that the "pandemic is over," reports the Wall Street Journal. The declaration was enacted in March 2020 by the former administration, giving the federal government flexibility to offer free testing, treatments and vaccines, as well as providing liability immunity to providers who administer services, according to the Kaiser Family Foundation.
Pandemic not over but "we're in a different place," says CDC director
Dr. Rochelle Walensky, director of the U.S. Centers for Disease Control and Prevention, received the new bivalent COVID-19 booster shot on Thursday, and told ABC News that she is among "millions" of Americans who have received a dose of the updated vaccine. "All the data from this new bivalent vaccine have demonstrated that it will protect you against — more likely protect you — against the strains that we have circulating right now, those omicron BA.5 strains, as well as keep you well protected, because we've seen that some of that protection can wane over time. So, we are really encouraging everybody to roll up their sleeves and get this updated bivalent vaccine," she said, speaking at a CVS location in Massachusetts. She added the new shots would likely be available to children between the ages of 5 and 11 soon, and that the CDC was waiting on word from the FDA. But Walensky demured from agreeing with President Biden's remarks during his appearance on "60 Minutes" on Sunday, when he said "the pandemic is over." Instead, she highlighted that hospitalization and case rates are falling, and with the widespread availability of vaccines and treatments, "we're in a different place."
Pandemic Problems: When to get boosted if you're unsure you've had COVID
The Chronicle's advice column deals today with a tricky question posed by a reader who was almost certainly exposed to the coronavirus from his girlfriend, and even had mild symptoms, but never tested positive. Given the advice to wait three or more months after contracting COVID to obtain the new omicron-specific booster shot, when's the best time for him to get a shot? The experts we consulted said it depends a bit on what kinds of tests the reader took to confirm his COVID status — but nonetheless the evidence suggests waiting a bit longer for the booster wouldn't hurt.