Coronavirus daily news updates, June 18: What to know today about COVID-19 in the Seattle area, Washington state and the world
3 weeks ago
Julio Marchi
The Centers for Disease Control and Prevention approved the first COVID-19 vaccines for children under 5 Saturday, clearing the path for health officials to begin administering the vaccines next week. Washington officials said local doctor's offices, clinics and pharmacies will get the vaccines on Tuesday or later, and supplies are expected to meet demand, at least initially.
Government labs are only using 2% of their total capacity in testing monkeypox samples, a sluggish response pointing to how little the U.S. learned from the COVID-19 pandemic, according to experts.
We're updating this page with the latest news about the COVID-19 pandemic and its effects on the Seattle area, the U.S. and the world. Click here to see the rest of our coronavirus coverage and here to see how we track the daily spread across Washington.
Navigating the pandemic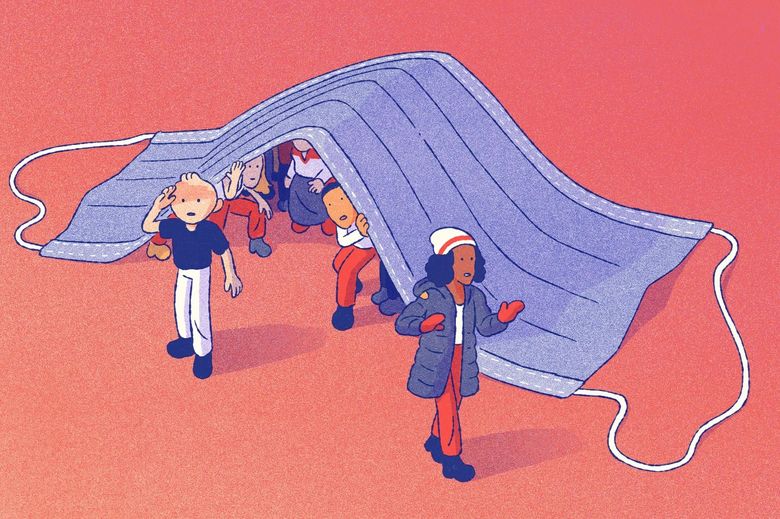 12:48 pm
Where WA parents can find coronavirus vaccines for children under 5
Washington is gearing up to provide COVID-19 vaccines for children 6 months through 4 years old, which Saturday were approved by the Centers for Disease Control and Prevention.
"We expect enough vaccines to meet initial demand and that supply will continue to increase in the coming days and weeks," Washington Secretary of Health Umair Shah said on the Department of Health's website, adding that "getting vaccinated remains the best way to protect yourself and those around you."
He urged parents to be patient, however, saying overwhelming demand may temporarily slow the vaccination process.
Doctors' offices, clinics and pharmacies may not get vaccines for these young children until Tuesday or later, according to a DOH online post. Seattle Children's has said it is expects to be one of the first local sites offering vaccines to children under 5, beginning Tuesday.
— Nina Shapiro and Amanda Zhou
12:45 pm
Bay Area COVID cases now dropping rapidly after long plateau
Bay Area counties reported fewer COVID cases this week than the week before, marking the welcome end of what some have called the "silent wave" of new infections.
"People are behaving like there's not a wave," said Dr. John Swartzberg, clinical professor emeritus of infectious diseases and vaccinology at UC Berkeley's School of Public Health. "But there is."
The nine-county Bay Area reported 20,470 new cases this week, according to data from the California Department of Public Health, down 33% from the 30,646 cases reported last week.
The most recent data update signals that the surge is finally dropping, after plateauing at high rates for over a month. That's good news for those who are out celebrating the Warriors' win, who are being exposed to slightly less COVID now than they would have been two weeks ago.
This surge has been notable for the Bay Area because for the first time the counties surrounding the San Francisco Bay were reporting more COVID cases per 100,000 residents than the rest of the state. Previous surges were much more concentrated in Southern California, but this new era of vaccinations and vanishing social distancing practices has set the stage for the Bay Area to lead the state in newly detected infection rates.
California's surge also seems to be dropping, but from a lower rate, and more gradually. This week the Golden State added 93,911 new COVID cases, down 20% from the 116,752 cases reported last week.
Swartzberg said recent trends are causing a lot of people to ask him if COVID is evolving to be more benign, but he's not sure. Despite the recent further decoupling of cases from hospitalizations and deaths, "the bottom line is I don't really think we know whats going to happen," he said.
"It is not clear theres any law of nature that the next variants will cause less serious disease" Swartzberg cautions.
—Harriet Blair Rowan, Bay Area News Group
12:41 pm
CDC recommends COVID-19 vaccines for children under 5
NEW YORK (AP) — U.S. health officials on Saturday recommended COVID-19 vaccines for infants, toddlers and preschoolers — the last group without the shots.
The head of the Centers for Disease Control and Prevention announced the decision hours after an advisory panel voted unanimously that vaccines should be made available to children as young as 6 months.
"We know millions of parents and caregivers are eager to get their young children vaccinated, and with today's decision, they can," Dr. Rochelle Walensky, the CDC's director, said in a statement.
The shots offer young children protection from hospitalizations, deaths and possible long-term complications that are still not clearly understood, the CDC's advisory panel said earlier.
"We've taken a major step forward today," said Dr. Oliver Brooks, a member of the panel.
—MIKE STOBBE, The Associated Press
11:30 am
Masks recommended for all in the Boise area, per CDC, as COVID-19 surge climbs
Everyone in the Boise area is now recommended once again to wear a mask indoors, as a rising COVID-19 surge mounts in Idaho.
The Centers for Disease Control and Prevention determined that Ada, Elmore, Valley and Lewis counties are at high community risk, which means that the most stringent public health measures the CDC offers are now in place.
In the affected counties, all residents should wear a well-fitting mask in public indoor settings, regardless of vaccination status, according to the CDC. Residents should also consider avoiding nonessential indoor activities in public where they could be exposed, and also talk to a health care providers about whether other precautions are necessary.
— Ian Max Stevenson, The Idaho Statesman
10:30 am
First 2 years of pandemic saw nearly 2,000 unexpected deaths in Alaska, many linked to COVID-19
During the first two years of the pandemic, nearly 2,000 more Alaskans died than models predicted, according to a report released this week by the Alaska Division of Public Health.
A little over half of Alaska's so-called "excess deaths" in 2020 and 2021 — or 1,097 out of 1,933 — could be directly attributed to COVID-19, meaning the virus was listed as a contributing cause of death on the death certificate, according to the report.
But many of the other deaths were likely connected to pandemic-related factors such as the lack of available hospital beds and delays in screenings or other preventive care, said report co-author Rosa Avila, deputy chief of the state's Health Analytics and Vital Records Section.
Diseases of the heart, accidents — in particular, unintentional drug overdoses — and chronic liver disease all contributed to significantly more deaths than expected in 2021, according to the report.
Alaskans over the past two years experienced hospitals occasionally overwhelmed with patients, as well as delayed care, limited supplies of medical equipment and personal protection, and collectively worse mental health.
—Annie Berman, Anchorage Daily News
9:40 am
A party scene while making Amazon's 'Expats' was followed by a COVID outbreak. Then things got complicated
On a Thursday morning in Long Beach last month, the crew of the Amazon Studios series "Expats" crowded onto a yacht. They were filming a party scene that had shots of a child pushing his way through a forest of adults, followed by star Nicole Kidman's character, Margaret.
A few days later, the production alerted those who had worked at the location that three people on the set tested positive for COVID-19 and offered additional testing.
But some crew members were unhappy about the way the cases were communicated and raised concerns about whether quarantining protocols were being followed, according to interviews and emails reviewed by The Times.
"There was a general feeling of panic on set," said a crew member with knowledge of the matter who was not authorized to speak publicly. "This was a very, very close-quarters set."
—Anousha Sakoui, Los Angeles Times
8:47 am
COVID-19 vaccine and fisheries deals close a 'roller coaster' WTO meeting
WASHINGTON — Members of the World Trade Organization announced several agreements Friday at the close of their first in-person ministerial conference in four years, pledging to rein in harmful government policies that have encouraged overfishing and relax some controls on intellectual property in an effort to make coronavirus vaccines more widely available.
The agreements were hard fought, coming after several long nights of talks and extended periods when it appeared that the meeting would yield no major deals at all. Indeed, although the parties were able to reach a compromise on vaccine technology, the divide remained so deep that both sides criticized the outcome.
"It was like a roller coaster, but in the end we got there," Ngozi Okonjo-Iweala, director-general of the World Trade Organization, said at an early-morning news conference in Geneva after the group's members approved the final package of agreements.
Read the full story here.
—ANA SWANSON, The New York Times
8:07 am
COVID-19 infection levels rising in all four UK nations
LONDON — COVID-19 infections have risen in all four nations of the United Kingdom, with the increase likely to be driven by the omicron variants BA.4 and BA.5, figures show.
The number of people in hospital with COVID is also showing signs of an upward trend, suggesting the virus is once again becoming more prevalent across the country.
A total of 1.4 million people in private households are estimated to have had the virus last week, up 43% from 989,800 the previous week, according to the Office for National Statistics.
Total infections are now back at levels last seen at the start of May, but remain well below the record 4.9 million at the peak of the omicron BA.2 wave at the end of March.
The ONS said the latest increase was "likely caused by infections compatible with omicron variants BA.4 and BA.5," which are now thought to be the most dominant variants in much of the UK.
BA.4 and BA.5 are newer strains of coronavirus that were recently classified as "variants of concern," after analysis found both were likely to have a "growth advantage" over BA.2.
—Dpa Correspondents, PA Media/DPA
8:04 am
'Everybody you know is getting infected': Why Oregon is awash in unreported COVID-19 infections
Todd Ouzts let his guard down this week for perhaps the first time in two years and quickly regretted it.
After spending most of the pandemic isolated at home with his wife, Ouzts went to a Home Depot on Monday, maskless, to buy a garage door opener. The 60-year-old semi-retired stop-motion animator had already received four doses of the COVID-19 vaccine and figured he was as prepared as he could be to transition back to a more normal life.
But in a variation of what is now a familiar story, Ouzts had a sore throat and was coughing and sneezing the next day. He originally thought the cause was dust he breathed in his garage while installing the opener. But by the following day, his body hurt and he had a headache. He took an at-home COVID-19 test and found out he was positive for the coronavirus.
While he made the choice to go to the store maskless, Ouzts is now frustrated about what he sees as mixed messages coming from the government about what precautions to take.
"I'm angry that we haven't solved this yet as a society," Ouzts said. "No one wants to be inconvenienced with rules anymore."
The Washington County man's experience is becoming increasingly common, as thousands of Oregonians continue to get infected with the virus daily, even as the state and nation appear to be moving on.
—FEDOR ZARKHIN, oregonlive.com
Seattle Times staff & news services