Cardinals announce restricted list for Toronto series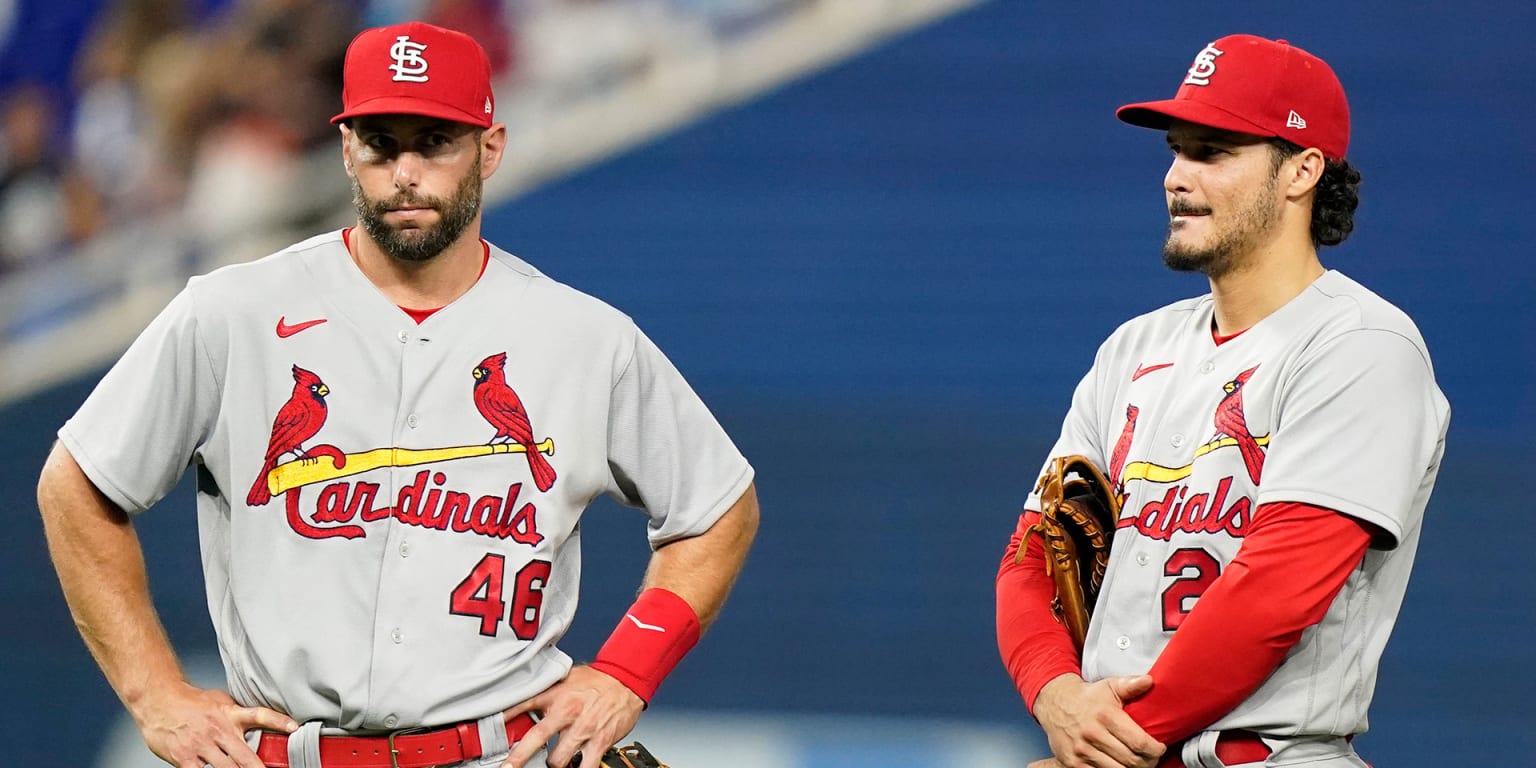 CINCINNATI — All-star cornerstones Paul Goldschmidt and Nolan Arenado are two of the three Cardinals players who will be placed on MLB's restricted list and are unable to play in the upcoming two-game series against the Toronto Blue Jays because of Canada's federal vaccine mandate for anyone entering the country.
Veteran catcher Austin Romine will join Goldschmidt and Arenado on the MLB restricted list, making the three players unable to travel into Canada for the Cardinals' two games against the Blue Jays on Tuesday and Wednesday, team president John Mozeliak said on Sunday. Arenado will forfeit $384,615 of his $35 million annual salary for the two missed games, while Goldschmidt will lose $285,714 of a contract that pays him $26 million in 2022.
"I did talk to Nolan recently about this, and he noted [at this time] that he was hoping to begin a family with his wife and for him it was a personal decision, and we honor that," Mozeliak said. "With regard to Goldy, I checked in on him, but we never had a lengthy discussion on it. I spoke with him a year and a half ago about it, and of course I understood his thinking then. I never had any discussion with Mr. Romine."
Relief pitcher Johan Oviedo also won't travel to Canada because of an expired Cuban passport, Mozeliak said.
To be eligible to cross the Canadian border to play baseball at Rogers Centre, MLB players, coaches and staff need one dose of the Johnson and Johnson vaccine or a second dose of the Pfizer or Moderna vaccine at least 14 days prior to traveling.
The Cardinals have long been aware of their players' vaccination status, and they made plans accordingly to try and fortify their roster. Relief pitcher James Naile, rookie catcher Ivan Herrera and outfielder Conner Capel traveled from Memphis to Cincinnati on Saturday to join the squad for its Sunday night flight to Canada. They will be added to the active roster to replace the three players on the restricted list.
Two weeks ago, the Royals placed 10 players — including All-Star outfielder Andrew Benintendi — on the restricted list before their series in Toronto. Prior to the Cardinals making the trip, 36 players from all teams had been placed on the MLB's restricted list because of Canada's vaccine mandate. MLB rules do allow teams to promote players not on the 40-man roster when replacing players on the restricted list. The Royals put the most players on the restricted list (10), followed by the Phillies (five), Twins (four) and Reds (four). The Yankees, Astros and Rangers did not have to utilize the restricted list to travel to Toronto.
Losing Goldschmidt and Arenado — two players chosen this season to their seventh MLB All-Star Games — will likely be a huge blow for a Cardinals squad that has leaned heavily on their offensive and defensive abilities this season. Arenado and Goldschmidt rank first and second, respectively, in the National League in Wins Above Replacement (WAR) this season.
Goldschmidt, who leads the NL in batting average (.333), on-base percentage (.416), slugging (.603) and OPS (1.019), homered in the MLB All-Star Game earlier this week and he could be headed toward his fifth Gold Glove award and the first MVP award of his career. Arenado, who leads the NL in WAR (5.0), has been a Gold Glove winner in all nine of his MLB seasons and he's a strong favorite to win the award again after a series of highlight-worthy plays this season.
Following a July 14 loss to the Dodgers, Arenado made headlines when he pushed for the Cardinals to add pieces to their roster to make them a stronger championship contender. He also stressed the team needed to do everything in its power to try and overtake the rival Brewers for the NL Central Division crown, and not merely settle for a Wild Card.
Arenado, who spent his first eight MLB seasons in Colorado, has never been a part of a division championship winning team.
"We want to win the division," Arenado said on July 14. "I don't want to win the Wild Card anymore. Getting to the playoffs is the goal, and if we get in, great. But we want to win the division, and it's important to win the division. I've never won it, so I would like to be a part of that."