Can China avoid a wave of deaths if it lifts strict zero COVID policy?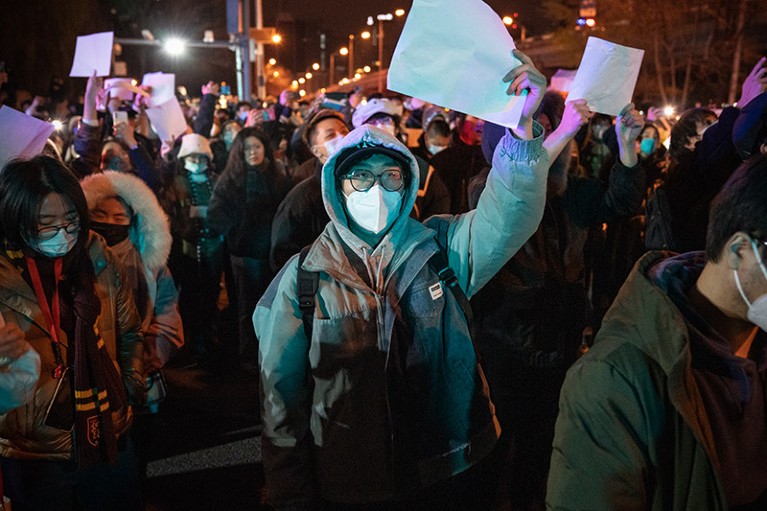 China is showing signs of easing its strict zero-COVID policy after rare displays of dissent across the country. In recent weeks, people have protested against the government's policy of quashing outbreaks through strict lockdowns, mass testing, quarantining and travel restrictions — which comes at an increasing economic cost. In the past few days, several cities have loosened restrictions, and China's vice-premier, Sun Chunlan, signalled a more permissive approach to containing the virus, according to news reports. But ending zero COVID would bring challenges. Thanks to the policy, only a small proportion of people in China have been exposed to SARS-CoV-2, the virus that causes COVID-19. Meanwhile, immunity from vaccines is likely to have waned, and boosters have been a harder sell. If the country ends its strict zero-COVID policy, how can it avoid a wave of deaths and severe disease?
A resurgence of cases in November has led to an all-time pandemic high that hit 71,000 daily recorded cases on 29 November. This upsurge has been driven largely by the BF.7 Omicron subvariant, says Lu Jiahai, an infectious-diseases epidemiologist at Sun Yat-sen University in Guangzhou. Modelling studies suggest that if China were to lift strict restrictions now, Omicron could infect between 160 million and 280 million people — resulting in some 1.3 million to 2.1 million deaths, largely among unvaccinated older adults.
At the outbreak's peak, demand for intensive-care beds could be more than 15 times the current capacity, according to one study published in Nature Medicine in May1, based on vaccination rates in March. Vaccine coverage is higher now, but not enough to prevent hospitals being overwhelmed, says Ben Cowling, an epidemiologist at the University of Hong Kong. "There would be a lot of severe cases and mortality."
However, researchers say there are ways to minimize severe disease and deaths when shifting away from zero COVID. One priority should be to ramp up booster vaccination for older people, who are at higher risk of developing severe disease, says Xi Chen, an economist at Yale University in New Haven, Connecticut, who studies China's public-health system.
Increase vaccination
Most people in China have received an inactivated-virus vaccine made either by Sinovac or by the state-owned Sinopharm, both based in Beijing. The World Health Organization recommends these be given as a three-dose regimen for people aged 60 and older, because two doses are unlikely to provide enough protection against severe disease. According to the Nature Medicine study, China could reduce deaths by 61% if it gave a third dose to all eligible adults aged 60 or older.
But so far, just 69% of people in that age category — and only 40% of those aged 80 or older — have received a third dose. "When there is such a strong push for zero COVID, vaccination takes a back seat," says Cowling. This week, the government announced a plan to increase vaccination among older people, including shortening the time between the second and third doses from six to three months. One way to incentivize people to get a third dose could be to loosen restrictions for those who do, such as giving them access to public spaces, says Chen.
In September, China approved an inhalable version of its viral-vector vaccine, made by CanSino Biologics in Tianjin; this version is now available to residents living in some large cities. Researchers are still waiting for late-stage clinical trial data on efficacy, but the hope is that inhaled vaccines will help to block viral spread, not just prevent severe disease. "That would be an absolute dream scenario for China because mass vaccination with such a vaccine would allow them to exit COVID-19 without an exit wave," says Cowling.
Chinese manufacturers are also conducting late-stage clinical trials of Omicron-specific vaccines and ones that use mRNA technology. These could offer better protection than the vaccines that are currently used in China, say researchers.
Another important strategy is to stockpile antiviral drugs, train more medical staff and increase the number of hospital beds, says Lu. The Nature Medicine study suggests that China could reduce deaths by 89% by treating everyone who has COVID-19 symptoms with the antiviral drug Paxlovid.
Loosen quarantines
Right now in China, those infected with COVID-19, and their close contacts, typically have to quarantine in designated facilities. A transition away from zero COVID would mean allowing close contacts and infected people with mild disease, or no symptoms, to care for themselves at home, says Chen. "That will release large resources to focus on treating the vulnerable."
A more pragmatic approach to quarantining is also needed, such as allowing close contacts to work if they test negative on a rapid antigen test, says Cowling. This would help to ensure that health-care services continue to function. The government would also need to change the tone of its public messaging to alleviate panic, fear and stigma around COVID-19, says Chen. Zero COVID "is unsustainable in the long run", says Chen.