4 metro counties back to medium COVID-19 community levels – KARE11.com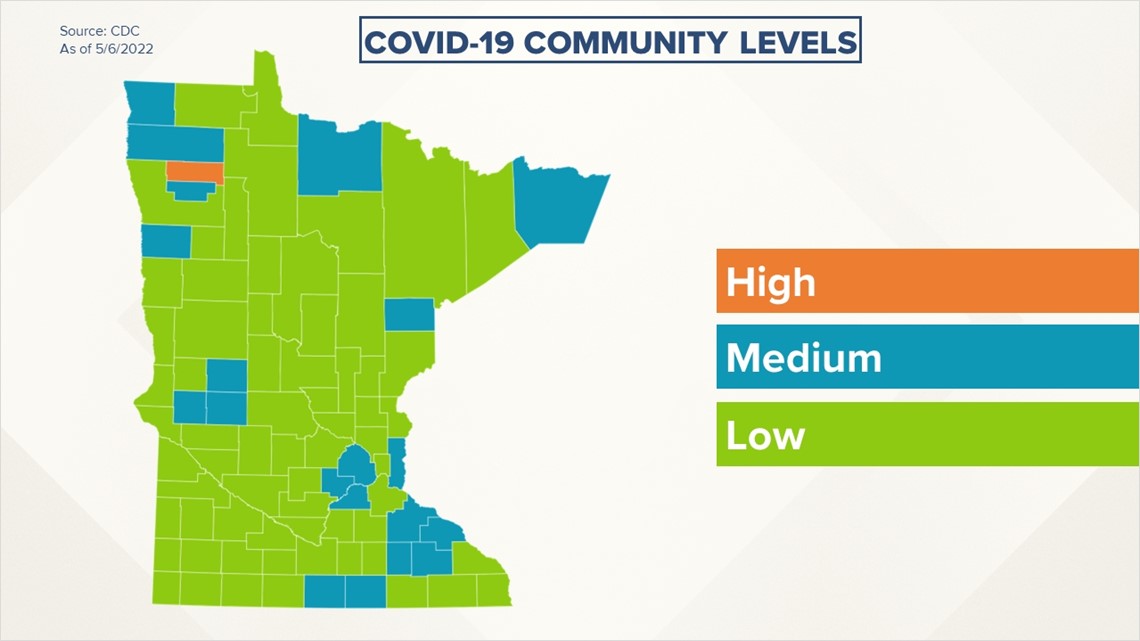 Hennepin, Carver, Scott and Washington counties are now listed as medium level counties in the CDC's weekly update.
Hennepin, Carver, Scott and Washington counties now fall under medium community levels, according to data collected from April 28 to May 4.
It marks the first week that any metro counties have risen above the low level since February.
Earlier this year, the CDC shifted its COVID-19 guidance based on community levels, with a heavier emphasis on the impact on healthcare systems. The levels are calculated based on three metrics: new COVID-19 admissions per 100,000 population in the past seven days; percentage of staffed in-patient beds with COVID-19 patients; and total new COVID-19 cases per 100,000 people in the past seven days.
Community levels can shift quickly. Olmsted and Wabasha counties were listed under high community levels last week, and have both dropped back into the medium level this week.
Pennington County is currently at a high transmission risk, and officials have recommended wearing masks in indoor settings.
"Last week we saw the levels in the wastewater coming into the metro plant in St. Paul, increase by about 21 percent over what we saw the week previous," Balogh said. "We're in a situation where levels are still increasing that's indicating that there's increasing prevalence of the disease in the metro plant service area."
Balogh says 97% of the viral RNA coming into the plant is primarily omicron BA.2.
But they're also keeping an eye on BA.2's sublineage which is BA.2.12.1
"We're seeing that now, in the last week rose up about 20 percent of the viral RNA that we're seeing," he said.
And while the BA.2 didn't cause a big spike in the wastewater like the original omicron variant, Balogh said COVID is still very much happening evidenced by the 21 percent increase in RNA load a reminder.
"The rate of increase of what we're seeing now BA.2 and BA.2.12.1 is nowhere near what we saw for Omicron, Omicron was the world champion as far as speed of increase goes," Balogh said.
Statewide daily COVID-19 case numbers reported by the Minnesota Department of Health (MDH) have been slowly rising in the past month, with daily case reports consistently above 2,000 most of this week. MDH cautions those numbers aren't a complete picture of COVID-19 case levels, however, as their reporting does not include home tests that are not submitted to MDH or otherwise confirmed with a lab test.
Watch more on the COVID-19 pandemic: