Why Is the COVID Vaccine for Kids Taking So Long?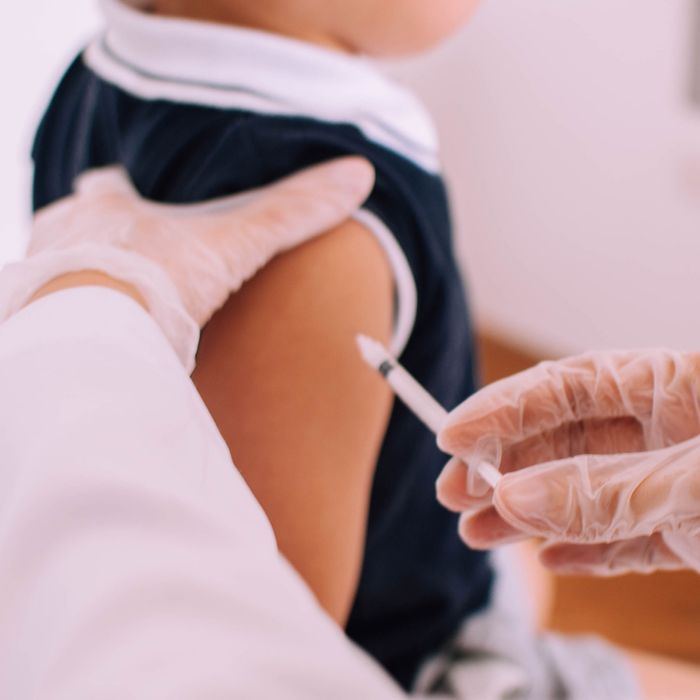 Photo: Courtesy H&M/Getty Images
Although many vaccinated adults have been able to return to some semblance of normal life, the vaccine rollout for kids has been frustratingly slow. Last November, the FDA approved Pfizer's vaccines for kids ages 5 to 11, and in May, it finally authorized booster shots for the age group to strengthen waning protection against COVID infections. But younger children (and anxious parents) have been left waiting. During the Omicron surge, infection rates among young children rose substantially, and many parents continue to struggle with school closures and child-care crises. Yet there's relief on the horizon: The White House has outlined early stages of a plan to make vaccines available this month to roughly 18 million children under 5. Here's what we know about when children will be able to get vaccinated ⁠— and boosted.
Vaccines for kids under 5 could be available by mid-June.
The FDA and CDC could authorize vaccines for children under 5 as early as next week, meaning vaccinations would begin to roll out the week of June 21. As of June 9, the Biden administration has made 10 million doses of vaccines available for states and health-care providers to order, though no doses will be shipped until the FDA and CDC sign off. Still, experts predict a slow uptake within the age group due to caretakers' vaccine hesitancy.
Studies on vaccines for children under 5 have been delayed in part because of the difficulty in figuring out what dose will be safe yet effective in smaller bodies, which respond faster to less vaccine. In March, Moderna announced it would seek emergency FDA authorization for a two-dose regimen for children under 6 and later applied for that authorization. Although trial results suggested the vaccine offered only low-level protection against the Omicron variant, the company insisted it was better than nothing. "If I were the parent of a young child, I would want there to be some protection onboard, especially if we see another wave of infections," Jacqueline Miller, Moderna's senior vice-president of infectious diseases, told the New York Times. Moderna is currently researching booster shots for the age group.
Meanwhile, Pfizer originally planned to apply for emergency FDA approval for a two-dose regimen but has submitted an application for a three-dose vaccine, which their study found to produce a strong immune response in children under five. Earlier Pfizer-BioNTech studies found two doses of the Pfizer vaccine provided significant COVID-19 protection with no safety issues, but data collected during the Omicron surge indicated inadequate protection against infection among children ages 2 to 4.
Vaccines for children ages 5 to 11 became available late last year, and now boosters are on the way.
Last October, Pfizer and BioNTech completed their revised trial for children ages 5 to 11, finding that a ten-microgram vaccine dosage is effective and safe for that age group. Following the FDA authorization of emergency use of Pfizer's dose, the White House rolled out a master plan to bring shots to the 28 million children who are eligible for immunization, along with a revamped campaign to educate parents and kids. Roughly 29 percent of the 6-to-11 age group is now fully vaccinated, according to data from the American Academy of Pediatrics. In May, the CDC recommended third doses for the age group, making all Americans 5 and older eligible for boosters.
Last fall, Moderna reported promising results from clinical trials with kids ages 6 to 11, and in May, researchers reported that the vaccine elicits a strong immune response in the age group. Although Moderna's request for FDA authorization is still pending, the vaccine has been cleared for use for this age group in Canada, Australia, and Europe.
Children ages 12 to 15 are eligible for booster shots.
In March 2021, Pfizer reported that its trial of kids ages 12 to 15 found the vaccine to be 100 percent effective without any abnormal side effects among participants; FDA authorization followed in May. So far, the AAP has reported, 59 percent of kids ages 12 to 17 are fully vaccinated. While that percentage is slowly increasing, there's still considerable vaccine hesitancy on the part of parents. In January, the CDC expanded Pfizer booster-shot eligibility to adolescents 12 and over.
In May 2021, Moderna announced that its vaccine was safe for children ages 12 to 17. Although Moderna's vaccine has been cleared for this age group in other countries, the FDA has yet to authorize it, citing risks of myocarditis, a rare heart inflammation.
We need kids to be vaccinated to reduce the spread of COVID.
In general, kids are a low-risk group for COVID, but it's still important that they be vaccinated as soon as possible. Although most kids do not get very sick from COVID, some do, and they can also spread the virus. The Omicron surge increased children's infection and hospitalization rates, particularly among those 4 and younger.
Still, anti-vaxx sentiments continue to rise: In March, Florida became the first state to advise against vaccinating kids 5 and older, citing a low risk of infection among "healthy children" without underlying conditions. Both the CDC and the AAP refuted Florida's recommendation and urged parents to vaccinate all eligible children. "COVID-19 can make children very sick and sometimes requires treatment in a hospital," reads a statement on the CDC website. Lisa Gwynn, president of the FCAAP, called the COVID-19 vaccine "our best hope" for an end to the pandemic. "The virus is still circulating in Florida," Gwynn said. "It is irresponsible to advise parents not to vaccinate their children."
To reach herd immunity — the point at which enough of the population is inoculated against COVID to stop its spread — we need children, who make up a quarter of the U.S. population, to be vaccinated too. And even though many experts now say they don't believe we will ever reach herd immunity in the U.S. because of vaccine hesitancy and highly transmissible variants, vaccinating kids is nevertheless crucial to stop the spread of COVID. "It's unlikely we could get community protection without immunizing children," Drexel University pediatrics professor Dr. Sarah Long told the AP. "This is the linchpin to getting everything back to some kind of normalcy."
This post has been updated.