Who should count? McHenry County coroner disputes COVID-19 death numbers – Shaw Local
McHenry County Coroner Michael Rein this week disputed the number of people who have died in the county from COVID-19 as reported by the McHenry County Department of Health.
Rein argued that deaths of McHenry County residents that occurred outside of the county or state should not be reported as a McHenry County death, pointing specifically to the number of residents who have died since June and total deaths since the pandemic began reported by the health department.
County and state health officials defended how COVID-19 deaths are reported, noting that the same standard is used across Illinois.
Rein's dispute of the death counts stem from a Northwest Herald COVID-19 update reported Dec. 30. The weekly report pulls data from the McHenry County Department of Health's COVID-19 dashboard for readers.
"A recent article was posted in a local media outlet that stated that 29 deaths happened between June 2022 and December 2022. The McHenry County coroner recorded 10 deaths of [COVID-19] during this time," Rein said in a prepared statement.
Rein said he sent out the news release to clarify the number of deaths he is aware of, adding that he wants good information regarding COVID-19 deaths.
"To me, that is not giving good information" by reporting deaths that occurred elsewhere, Rein said.
Rein reports 327 COVID-19 deaths in the county since the pandemic began. He is counting cases where his office has generated a death certificate that includes COVID-19 as a cause of death.
The McHenry County Department of Health reported 537 COVID-19 deaths on its website from June through most of December. On Dec. 30, that number was increased by 29 deaths, bringing the total to 566. As of Thursday, the health department reported 571 deaths of McHenry County residents.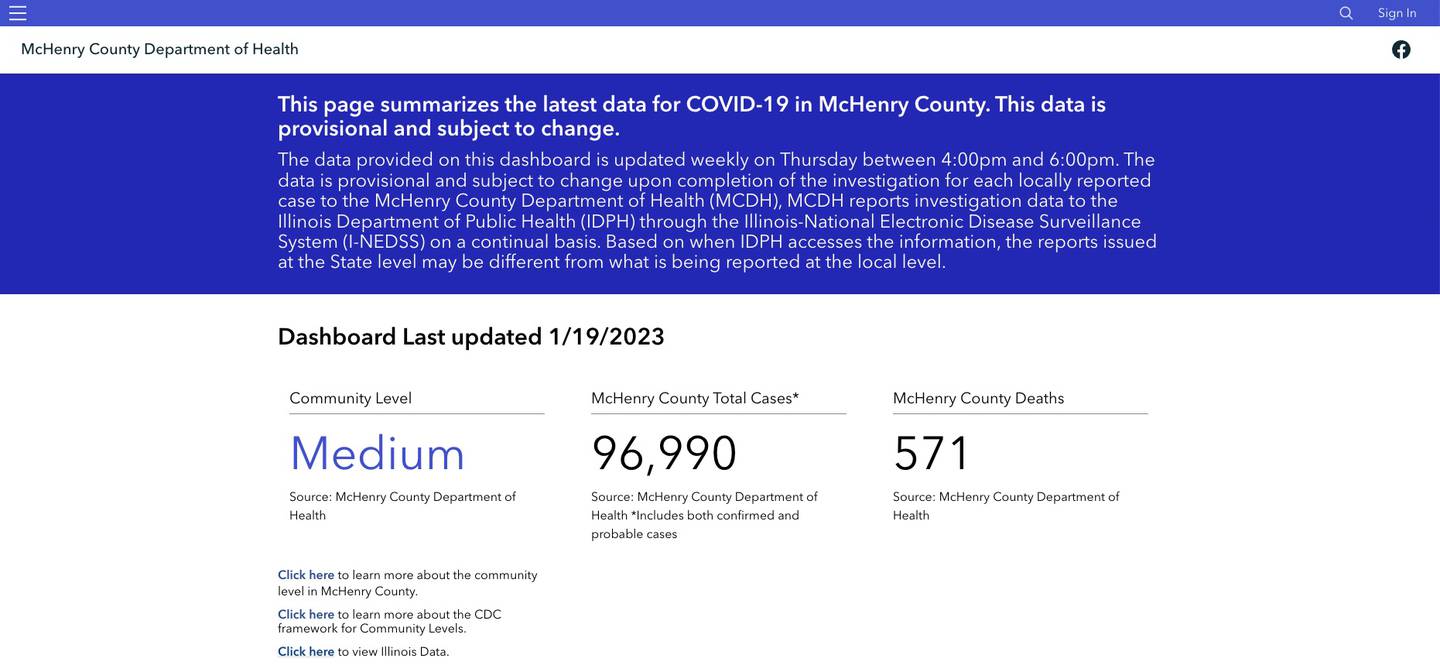 This is not the first time that COVID-19 death reporting has been at issue.
Public Health Administrator Melissa Adamson and Rein discussed the differences in their reporting models at a McHenry County Board meeting Feb. 15, 2022.
At that meeting, Adamson noted that a nurse from the department reviews death certificates to ensure the fatality falls under the department's case definitions and that all county residents are included in that total regardless of where the death occurred.
"If they are out of state, does that other state count it as a COVID death and we are counting as well?" Rein asked in an interview, questioning whether deaths were being counted twice. "If they pass away in … Florida or Arizona, did they count them as a [COVID-19] death or here and there?"
All Illinois counties report COVID-19 deaths based on where the decedent lived, Illinois Department of Public Heath spokesman Michael Claffey said.
"The way IDPH counts deaths is by the residence of the person. If they died in Chicago and lived in McHenry, it is the death of a McHenry County resident," Claffey said.
How Rein is counting COVID-19 deaths is by those who are reported to the coroner's office. When a probable or suspected COVID-19 death occurs in McHenry County, regardless of whether in hospital, hospice, nursing care or at home, it becomes a case for his office.
"The coroner's office requests any and all medical records from any of these facilities related to [COVID-19] and all other health issues," Rein said in the release. "After investigating these records, the McHenry County coroner would make the final decision if a decedent passed away due to [COVID-19]."
The coroner's numbers differ from those reported by the health department due to how the two agencies obtain and report numbers, McHenry County Department of Health spokeswoman Lindsey Salvatelli said.
"We investigate all death certificates of McHenry County residents, whether the death occurred in McHenry County or anywhere across the state, country or internationally, whereas the coroner's data include deaths that occur only within McHenry County," Salvatelli wrote in an email to the Northwest Herald.
"[Rein's] jurisdiction stops at the county borders," Salvatelli said in an interview.
There is a lag in the health department's reports as they come in from various jurisdictions and the case is looked at.
"All of our data is provisional" until reviews of the death certificate and medical records are performed, Salvatelli said.
Salvatelli also said that if a resident of another county or state died in McHenry County, that death is not included in the health department's totals but instead is tallied in the total for that person's residence of record.
Rein said his office would include in its COVID-19 death total a Kane County resident who died in a McHenry County hospital.
"If they pass away in McHenry County, we generate a death certificate here. It is counted as a death whether it is [COVID-19] or any other type of death," Rein said.
A majority of the deaths have been McHenry County residents.