US XBB.1.5 levels continue steady rise
US COVID patterns show mixed patterns, with cases and hospitalizations down a bit, but deaths up sharply.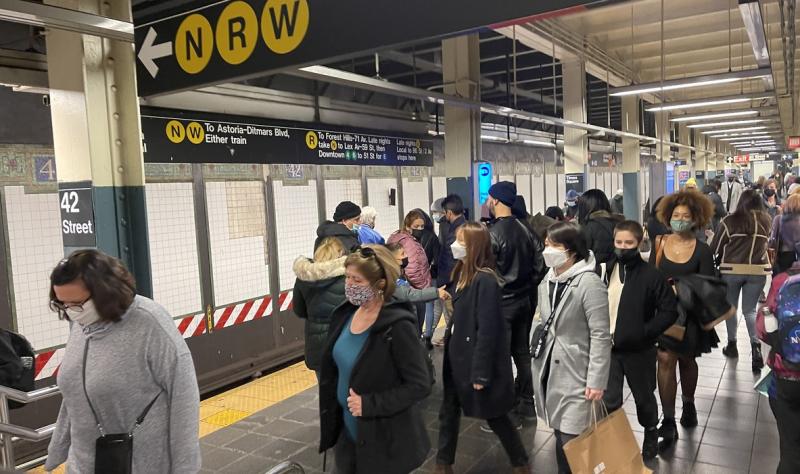 It its latest variant projections today, the Centers for Disease Control and Prevention (CDC) said the proportion of the Omicron XBB.1.5 subvariant continue to rise, with much of it concentrated in the Northeast and Middle Atlantic states, where the virus is dominant.
Regarding case patterns, the nation's COVID-19 activity continues to fluctuate, with cases down some but with deaths up sharply.
BQ.1 subvariants still dominant across much of US
The CDC estimates that XBB.1.5 makes up 43% of sequences samples, with a range of 26.4% to 61.1%. The level is up from last week's estimate of 26%. By region, the subvariant is dominant in the Northeast and Middle Atlantic regions and makes up about a quarter of viruses in southern regions, with lesser proportions elsewhere.
New York City's health department said today on Twitter that the XBB.1.5 subvariant accounts for 73% of sequenced samples in the city. Officials warned that the variant is the most transmissible one to date and may be more likely to infect people who have been vaccinated or who already had COVID. "Getting vaccinated and getting the updated booster is still the best way to protect yourself from hospitalization and death from COVID-19, including from these new variants," NYC Health said.
BQ.1 and BQ.1.1 subvariants account for an estimated 44.7% of viruses nationally and are still dominant across much of the United States.
The 7-day average for new daily COVID-19 cases today is 60,477, down 10% from a week ago, according to Washington Post tracking. By the same measure, hospitalizations are down 10%, but deaths are up sharply, by 47%.
In other US developments, a federal appeals court yesterday upheld a ban on COVID-19 vaccine mandates for federal workers in three states, the Associated Press (AP) reported. They include Kentucky, Tennessee, and Ohio. Last month, a different federal appeals court made a similar ruling for Indiana, Louisiana, and Mississippi.
ECDC issues XBB.1.5 threat assessment
The European Centre for Disease Prevention and Control (ECDC) today posted a brief threat assessment for XBB.1.5, which it says made up less than 2.5% sequenced samples in Europe in the last 2 weeks of 2022. It added that its mathematical modeling suggests that the subvariant could become dominant in the region over the next 1 or 2 months.
The group said that in the United States, XBB.1.5 is growing 12% faster than other subvariants. It put the risk to the general public for now at the low level, with the threat moderate for people in higher-risk groups.
In a separate weekly update on COVID activity in Europe, the ECDC said indicators show overall improvement compared to the holiday period, but they said the situation varies by country, with three showing increasing trends: Cyprus, Greece, and Malta.
In other global developments:
One of China's top epidemiologist said the country's outbreak peak will probably last 2 to 3 months, with surges expected to spread to more rural areas—fueled by upcoming Lunar New Year travel—where health systems are weaker, according to

Reuters

, citing Chinese media comments from Zeng Guang, PhD, former chief epidemiologist for the Chinese Center for Disease Control and Prevention. Officials said the country has detected one XBB.1.5 infection.

The World Health Organization (WHO) today

updated

it COVID guidance on masks, treatments, and patient care. It fine-tuned its mask recommendation to focus on illness, recent exposure, high-risk status, and crowded, poorly ventilated spaces. It advises that COVID-19 patients can be discharged from isolation early if their rapid tests are negative. The group also extended its strong recommendation for the antiviral treatment Paxlovid and maintained its recommendation against using the monoclonal antibodies sotrovimab and casirivimab-imdevimab due to their lack of or diminished activity against currently circulating subvariants.