Tight U.S. Senate race will keep Wisconsin in national political spotlight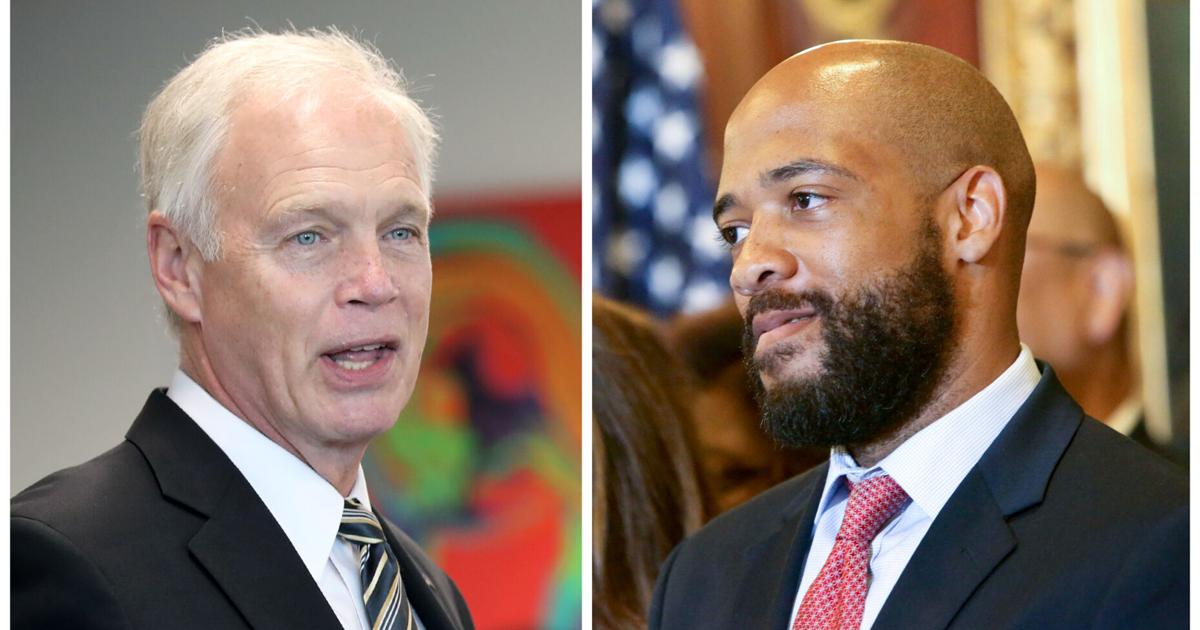 As is often the case in statewide elections in Wisconsin, November's U.S. Senate race between GOP Sen. Ron Johnson and Democratic Lt. Gov. Mandela Barnes is forecasted to be among the tightest in the country.
Democrats and election analysts see the seat held by Johnson as one of the most flippable in the nation — a pick-up that could be key to Democrats maintaining their majority. Republicans, on the other hand, see getting Wisconsin's senior senator reelected as critical to regaining control of the Senate.
The race will likely attract tens of millions of dollars in spending from the campaigns and outside groups, with the candidates and political action committees already booking TV time.
But unlike other "toss-up" Senate races in places like Georgia, Nevada and Arizona, it is a Republican incumbent that is trying to fend off a challenger.
Johnson has served since 2010. A multimillionaire, he rose to prominence during the Tea Party movement in the years after former President Barack Obama was elected, and has spent his time in the Senate voting for tax cuts — mostly for corporations — and against the Affordable Care Act.
After the 2016 election, Johnson became an outspoken ally of former President Donald Trump, who last week urged a crowd of a couple thousand to reelect Johnson at a rally in Waukesha.
"I also need to ask you to vote for a very good friend of mine and a special man," Trump said of Johnson last week. "He's one of the most respected people in the Senate. He has done an incredible job and he'll take unpopular positions if they're right. His name is Sen. Ron Johnson. Get out and vote for Ron Johnson."
As the Republican party lurched to the right, embracing conspiracy theories about elections and COVID-19 vaccinations, Johnson also began to peddle falsehoods. Late last year, for example, he suggested a "standard gargle" of mouthwash "has been proven to kill the coronavirus," despite mouthwash manufacturers and medical experts saying studies haven't shown the practice to be effective.
But the senator has followed through on some campaign promises, including supporting a major tax cut for some of the country's wealthiest people and corporations. He also supported all three of Trump's U.S. Supreme Court nominees, who eventually formed a coalition to overturn Roe v. Wade.
His opponent, Barnes, has worked hard to emphasize his middle class roots and show voters that he has experienced their struggles first hand. As lieutenant governor, Barnes has taken on some high-profile tasks, including leading Gov. Tony Evers' climate change task force. He has also had the opportunity to travel the state and raise his profile with Wisconsin voters.
"My story is a Wisconsin story, and those tickets to the middle class are harder and harder to come by, regardless of how hard you work," Barnes told supporters Monday evening, sticking with a message of economic populism that appears to have resonated with Democratic primary voters in recent weeks.
Election analysts forecast tight race
Both Wisconsin and national election analysts forecast a tight contest between Johnson and Barnes.
Charles Franklin, director of the Marquette University Law School poll, found in June that Barnes was leading Johnson 48% to 46% in a head-to-head matchup — a lead within the poll's margin of error. The same poll found Barnes with a 1% lead over Johnson among independent voters, and that the incumbent senator's favorability rating was at just 37%.
Franklin said that while Johnson's favorability rating in 2015 and 2016 was at a similar point, as the electorate became more familiar with him, his favorability increased while the share of people with a negative view of him held steady. As of June, Franklin said, only 14% of people hadn't heard enough to form an opinion of Johnson — a substantially smaller share than in 2016 — and people who have formed an opinion of him seem to have broken away from him.
Even still, Franklin, who sees the race as a toss-up, also said he thinks a case could be made that the race favors Johnson.
He said the senator's "previous victories against expectation" make it hard to predict how the race will turn out in November, especially since his polling suggests Republicans with an unfavorable view of Johnson still plan to vote for him.
Franklin said based on Johnson's record in forecasted uphill battles, "one would be foolish to underestimate him this time."
J. Miles Coleman, an election analyst and associate editor of the nonpartisan election handicapping site Sabato's Crystal Ball, agreed with Franklin that Johnson shouldn't be counted out in 2016.
Coleman and his colleagues have the race listed as "Leans R" in their projections, and he said Johnson's status as an incumbent could power him to victory. Like Franklin, he also noted that Johnson was "left for dead" in 2016, but came "charging back" to outperform Trump in the state and win reelection.
Even still, Coleman said, "it is the best pickup opportunity for Democrats" in the country besides the U.S. Senate race in Pennsylvania. Coleman said that could drive outside spending that boosts Barnes' chances.
Coleman did say Barnes' focus on economic issues matches the political atmosphere, and in an era of longtime politicians, branding Johnson as having "gone Washington" by legislative for his donors could help propel the lieutenant governor. Franklin agreed about Barnes' messaging, saying focusing on economic issues was a "reasonable" approach.
But Barnes is also less well-known than Johnson, the two analysts said, with Franklin noting Barnes still has a "major job (to do) to introduce himself to the electorate."
When asked who he thought would win the race, Franklin laughed and said, "The one that gets the most votes."
On Monday night, after cruising to victory in his primary, Johnson said in a statement that the race with Barnes "is a contest between radical left socialism versus freedom and prosperity."
"Regardless of how Mandela Barnes and his allies in the mainstream media attempt to paint his views, Wisconsinites should not believe a word they say," Johnson said. "The Lieutenant Governor will support all the destructive policies of President Biden and his enablers in congress."
Barnes shot back in his own statement Tuesday, saying "Ron Johnson has spent his decade in Washington serving the special interests who donate millions to his campaign while he calls to repeal the Affordable Care Act and slash Social Security funding. Plain and simple: if it doesn't support his wealthy donors or his own self-interests, you can't count on Ron Johnson to support it."
"Wisconsin deserves to be represented by leaders who have a firsthand understanding of the challenges they're facing and their hopes for the future," Barnes said.
With 90 days to go until the Nov. 8 general election, expect the race between Johnson and Barnes to turn into a brawl for control of the U.S. Senate.