'This was more about control than health and safety,' says Va. restaurateur who defied COVID-19 restrictions – The Winchester Star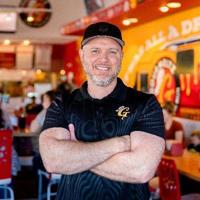 Matt Strickland, who received national attention for defying Virginia's pandemic-related restrictions at the Gourmeltz restaurant he owns in Fredericksburg, addressed the Frederick County-based Small Business Freedom Alliance recently.
"Our government was saying, 'You have to do this, you have to do that,' and we fought the government and won," Strickland, a 39-year-old Army veteran, told an audience at West Oaks Farm Market on Middle Road. "I've spent my entire life overseas fighting dictatorships in other countries. The last thing I'm going to do is come here to my own country and allow a dictatorship to rule here."
Strickland's remarks came on the heels of the Virginia Alcoholic Beverage Control Authority (ABC) restoring Gourmeltz's liquor license. He received notoriety for ignoring COVID-19 restrictions enacted by former Democratic Gov. Ralph Northam, which eventually resulted in an ABC raid at his restaurant in early December. His video of the raid went viral.
During the raid, Strickland livestreamed uniformed men entering the restaurant to box up liquor bottles. As he panned the camera around the business, he told them, "What you're doing now is government overreach. What you're doing now is supporting a tyrannical government."
When officials told Strickland they were executing a search warrant, he replied, "So many people were just doing their job for Hitler back in Germany."
The raid was the culmination of a saga that began in early 2021, when The Washington Post reported that the Rappahannock Area Health District began receiving complaints about Gourmeltz not following restrictions enacted to prevent the spread of COVID-19, so the Virginia Health Department (VDH) dispatched inspectors to investigate. The VDH ended up suspending his business license — the case against Strickland was later dropped — and the Occupational Safety and Health Administration (OSHA) fined Strickland $70,000, he said.
"They came at me three ways: health department, ABC, and OSHA," Strickland said.
Litigation ensued. Strickland said he "beat" the health department in court.
The ABC board also suspended Gourmeltz's liquor license for violations that included employees not wearing masks and social distancing guidelines not being followed.
After appeals that spanned almost all of last year, the Spotsylvania Circuit Court ruled in favor of the ABC. Strickland continued to serve alcohol without the proper license, which led to the raid.
The ABC reinstated Gormeltz's liquor license on Dec. 23, which he attributes to the video's popularity and political pressure. He described the reinstatement as "a victory for the people."
Strickland said COVID-19 mandates were unconstitutional, and he attributed much of his behavior largely to patriotism and faith.
He said pandemic protocols were "more about control than health and safety."
"So I made the only decision I could as a man, which is standing up and fighting for the constitution," Strickland said.
Virginia was averaging 17 daily COVID-19 deaths in late June of 2020, according to The Washington Post, which was around the time Strickland began defying restrictions.
Strickland's legal fees ran up to $200,000, significantly depleting his personal savings, he said.
Not only was he critical of Northam's COVID-19 restrictions, he also was critical of Republican Gov. Glenn Youngkin amid claims that Youngkin canceled a Fox News appearance to avoid drawing attention to the case between Gourmeltz and Virginia. He said Republican leadership in Virginia "left him to the wolves," as he was "still being prosecuted for COVID mandates."
"I was supposed to go on Fox News, actually, a couple of different shows, 'Tucker Carlson' included. But the governor called up there and had me canceled from those shows to suppress my story," Strickland maintained.
He described some conservative lawmakers as "RINOs" (Republican in Name Only), a pejorative popularized by former President Donald Trump to describe Republicans who he believed had liberal leanings.
Strickland is now seeking the Republican nomination to run for Virginia's 27th District Senate seat in the November election.
"I want to crush the RINO that is running against me. This is a fight that God called for me to take on," Strickland said of his state senate bid.
If elected, Strickland said he will have this message for his conservative counterparts in Richmond: "Vote with me, or be exposed as the RINO or the Democrat that you really are."
He added, "It's not Democrats vs. Republicans, guys. It's evil vs. good, unfortunately."