Sample Seattle street art with a short walk featuring Capitol Hill murals – The Seattle Times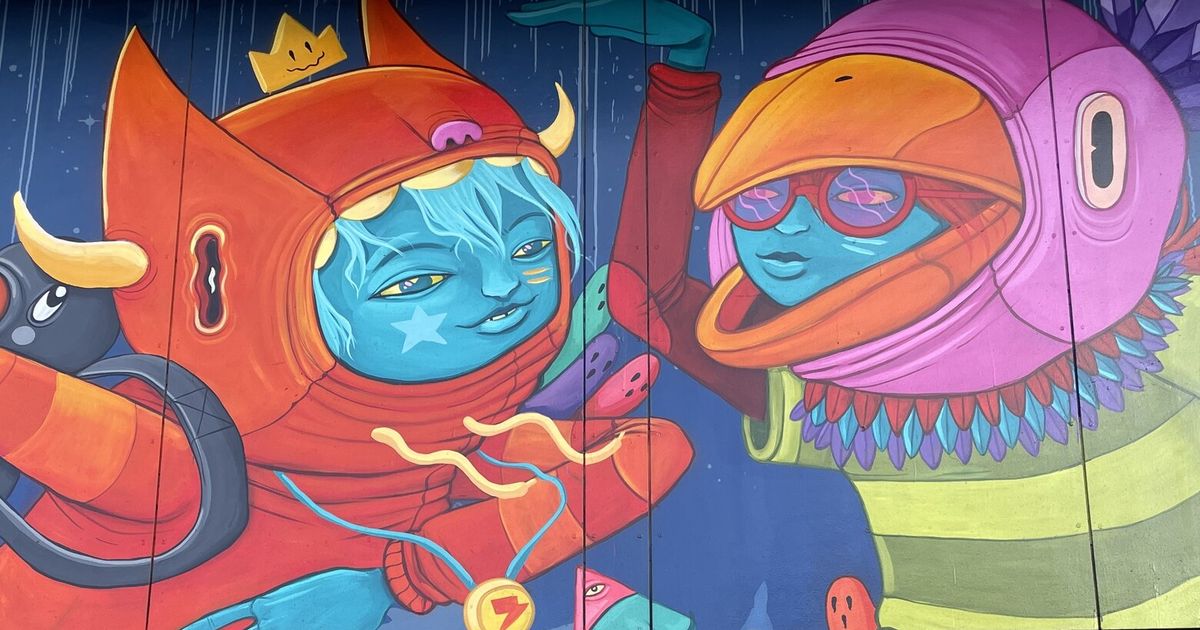 One Foot in Front of the Other
My love of murals developed in college, when I spent many weekends taking the bus to Capitol Hill to check out pieces of street art that seemed to pop up on every corner.
Although most of the murals I discovered then are gone, with fresh crops of street art surfacing around Seattle regularly, you can always count on the vibrant neighborhood of Capitol Hill to discover new artwork. You'll see more than a half-dozen cool murals on this short loop around the heart of Capitol Hill, and there are always more to discover around town.
Look out for these murals, which showcase vibrant colors, cool characters and timely political messages. You can use public transit or hunt for ample street parking.
Capitol Hill mural loop
Round-trip distance: 1.1 miles
Start out at 1603 Nagle Place; your first mural is right off Nagle and East Pine Street, across from the bottom of Cal Anderson Park. Chances are you'll be able to spot the bold red in this piece from a distance.
This striking mural, which depicts the interconnected nature of prey animals and their environment, was created by Stevie Shao, a Chinese American, Seattle-born artist whose love of nature and color shines through in her work.
Shao started creating murals during COVID-19, when businesses boarded up their storefronts but wanted to offer some color to folks passing by. Now, Shao's work is nothing short of prolific in Seattle — you'll see another one of her pieces in this mural walk alone. Keep your eyes peeled!
This piece also offers a #ACallForKindness; to participate in the campaign, you can scan the QR code on the corner of the piece to answer the invitation (from Verizon Wireless) to spread kindness to your neighbors.
Our next mural is just down the street, at a classic Capitol Hill music venue.
Exiting the south end of the park, find 10th Avenue; cross the street and walk toward East Pike Street for a block. At 925 E. Pike St., at the corner of 10th Avenue and East Pike, you'll find two massive murals on the front of storied Seattle club Neumos.
There is an orange-and-black piece featuring a sleek abstract swimming scene as well as a black-and-white collage of various music artists from Neumos history, like Shy Girls, the Melvins, Feist and more.
Our next mural is at 1426 Broadway. Walk a block west on East Pike toward Broadway, then turn left at the intersection cater-cornered from the QFC. On Broadway, you'll find this colorful, larger-than-life piece outside Q Nightclub.
The mural was created by Ten Hundred, an artist and designer who lived across the U.S., including in Seattle, before returning to his Michigan hometown. The artist specializes in bright, imaginative characters like the ones in this piece, drawing inspiration from cartoons, anime, folklore and graffiti.
This piece, with its flashy party animals, was initially created as one of 17 murals for the inaugural National Mural Day in 2019, created by Pabst Blue Ribbon to celebrate murals as an accessible form of public art.
Continue along Broadway a few paces. Shortly before East Union Street, you'll find a parking lot with murals on both sides.
Murals may change over time — such is the ephemeral nature of street art. At the time of publication, a quote from one mural here at 1414 Broadway stuck out: "This is no such thing as an exit, only entrances to the next room."
On the other side of the parking lot, you'll find a scene with a bird, a worm and a caterpillar perched on a cracking wall design, seeming to lead to another reality, with elements of graffiti tagging incorporated into the piece. The mural was created by Game Not Fame, a Seattle mural artist collective, and has remained intact for years in always-changing Capitol Hill.
After leaving the lot, turn left onto East Union Street, walk a block and cross the street to find the next mural, on the wall outside Overcast Coffee Bar. It should look familiar: This is another piece by Shao.
After moving to this location about 18 months ago, Overcast owner Jonathan Pak was looking for a local artist who could create a mural that captured the Holy Trinity of Seattle: coffee, beer and bikes. Pak had seen Shao's work throughout Seattle while riding his bike, so working with her (as well as muralist Glynn Rosenberg) seemed like a natural fit. This mural reflects the energy and spirit of Seattle in sharp hues of yellow, blue and orange.
Continue in the same direction 0.1 miles along East Union Street, then turn left onto 12th Avenue East. Continue two blocks (about 0.2 miles) until you arrive at the intersection of 12th Avenue East and East Pine Street.
This intersection marks the political protest heart of Capitol Hill: It's the site of the Seattle Police Department East Precinct, a block east from the site of CHOP at Cal Anderson Park, the epicenter of summer 2020 protests.
The murals on this corner across from the precinct have changed over the years and often invoke protest; a literal sign of the times. Today, you'll find a mural of an American flag with abortion pills instead of stars, with "Abortion Pills Forever" written into the white stripes.
The piece was commissioned by Shout Your Abortion in response to the Supreme Court overturning Roe v. Wade last year, and it was painted by No Touching Ground (Lars Bergquist). A reproduction of this piece was originally displayed at the Forest For The Trees "HOWL" exhibit, which included stories from women and nonbinary artists covering a range of topics. Patrons and supporters of Shout Your Abortion raised money for this piece to be displayed as public art on Capitol Hill.
Head down East Pine toward the park and our starting point to find the massive Black Lives Matter mural between 10th and 11th avenues. While most murals are on walls, you'll direct your gaze downward here. This block-long mural has proudly proclaimed "Black Lives Matter" since it was created during the summer 2020 protests around police violence.
The mural was created by Vivid Matter Collective. Each letter tells a story from the perspective of the artist who created it, and carries its own call to action. The letter "I" was a collaboration among all the artists, so you'll see elements of each artist's style reflected. Plaques near the mural tell more about its history and the roster of artists who worked on the piece.
Finish this walk at the Vivid Matter Collective gallery space at the nearby Molly Moon's Ice Cream at Pine Street and 10th Street. Grab a sweet treat and wrap up with some more art across the street from the mural that started the jaunt.