Political colleagues eye reprimand for anti-vaccine Coun. Michael van Holst – The London Free Press
Article content
A London city councillor who used his platform to encourage municipal employees to evade mandatory COVID-19 vaccinations violated council policies and should be formally reprimanded, city hall's integrity commissioner says.
Article content
Lawyer Gregory Stewart, council's ethics watchdog, found Ward 1 Coun. Michael van Holst violated four different rules by which city politicians are bound when he publicly pushed against vaccine mandates and tried "to undermine" the one in place at city hall. Council colleagues appear open to punishing him.
"It is a serious thing, and it's something council does have to take very seriously, because these are the rules we agree to play by, and when they're broken we have to take that seriously and consider some action," acting mayor Josh Morgan said.
The problem doesn't lie with van Holst's beliefs about COVID-19 vaccine mandates, but in how he communicated those views to the rest of the city, the integrity commissioner found.
Article content
"Rather than supporting council's policy, he was actively advising the public on ways to get around the policy," Stewart wrote in a report detailing his findings. "Conduct of this nature by a sitting member of council should not be allowed to stand without comment or note."
It's been roughly six months since Mayor Ed Holder filed a complaint against van Holst and accused his colleague of defying council's code of conduct when he took the stage at an anti-vaccination rally in Victoria Park.
Holder, who's off work recovering from a medical procedure, wasn't speaking to Stewart's report on Friday. But when he filed the complaint in October, he said van Holst was "openly and visibly defying and undermining council policy by virtue of his participation" in the Victoria Park rally.
Article content
Van Holst spoke to the crowd about his newly created "creed," which he called the "Order of Freedom." It was framed as an option to avoid vaccine mandates, by claiming a human rights exemption based on creed.
About four per cent of city hall's workforce, 126 employees, remained unvaccinated after filing exemptions on human rights grounds, The Free Press reported in January, based on information obtained in a freedom of information request.
In London and Middlesex County, 375 people have died of COVID-19 since the pandemic began two years ago.
Stewart said Holder's complaint wasn't the only one against van Holst, noting his review addresses "a number of complaints concerning the conduct of Coun. Michael van Holst." They related to his appearance at the rally, whether his "creed" is a valid justification to remain unvaccinated, and whether he was advising municipal employees to attempt to use the dodge.
Article content
The integrity commissioner's report, which heads to council's Tuesday meeting, is clear and thorough, Morgan said.
"Personally, I think when you have a third party independent review of a matter, the recommendations that are returned from that third party, non-political, independent review should really be strongly considered as the actions you take," he said.
Stewart found van Holst violated four council policies:
"Members are expected to perform their duties in office and arrange their private affairs in a manner that promotes public confidence and will bear close public scrutiny."
"Members shall seek to serve the public interest by upholding both the letter and the spirit of the laws of the federal Parliament, the Ontario Legislature and the bylaws and policies of the corporation."
"Members shall accurately and adequately communicate the decisions of the council, even if they disagree with council's decision such that the respect for the decision–making process of council is fostered."
"Members shall adhere to such bylaws, policies and procedures adopted by council that are applicable to them."
Article content
Van Holst did not respond to a request for comment Friday afternoon.
Stewart polices councillor behaviour as London's integrity commissioner, but he has little power to enact penalties. City council must sign off on any consequences of a violation of its code of conduct.
A formal reprimand – essentially, a public knuckle-rapping – is one of the few punishments an integrity commissioner can recommend, the other being a suspension of pay for up to 90 days, which Stewart did not suggest in this case. A reprimand doesn't include any significant consequences outside the political ramifications.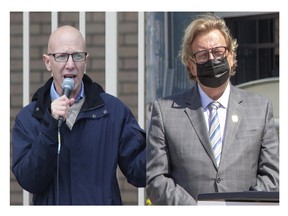 "I have no basis to determine or conclude that Coun. van Holst does not hold a sincere belief in his Order of Freedom. As stated, he is free to hold those beliefs. However, his conduct, with respect to the policy of council, failed to uphold that policy or encourage public respect for it," Stewart wrote in his 13-page report.
Article content
"It appears that once these issues became public and were called into question, he no longer publicly criticized the policy. However, there is no indication that he has retracted his statements or apologized for his conduct when it began to attract public concern."
Van Holst, an eccentric councillor is in his second term, previously had come under fire for comparing water fluoridation to the "Bill Cosby of water treatment processes," making controversial remarks about homeless people, and urging city staff to "take a second look" at the science of climate change.
His Order of Freedom website states the creed is "for souls who feel an inner calling to champion the principles of Freedom."
"Because of our commitment to Freedom, the members of our order would not willingly participate in this overreach of government that requires vaccination and the sharing of private medical information," the website states.
Article content
Anyone can file a complaint with council's integrity commissioner, but it's not as common for a politician to file one about a colleague and do so publicly, as Holder did here. Holder publicly slammed van Holst for creating a "creed of convenience."
Stewart, who represents the only oversight for councillors other than voters, took roughly six months to complete the investigation.
The last time a London city councillor was found at odds with council's code of conduct was in 2016 when Stewart ruled the affair of then-mayor Matt Brown and Coun. Maureen Cassidy breached three parts of the code.