People who think they are attractive are less likely to wear masks: Study – Al Arabiya English
People who think they are attractive are less likely to wear masks to prevent COVID-19, a 2023 study showed.
A total of 1,030 participants were asked to self-evaluate how attractive they thought they were, how likely they were to wear a mask, and if certain situations – such as a job interview or walking the dog – impacted their willingness to wear one.
For more coronavirus news, visit our dedicated page.
According to the researchers, the more attractive a person perceives themselves, the less likely they were to wear a mask because they thought the mask made them less attractive.
Those who thought they were not very attractive said they were more likely to wear a mask, the study published in the Frontiers of Psychology journal in late January found.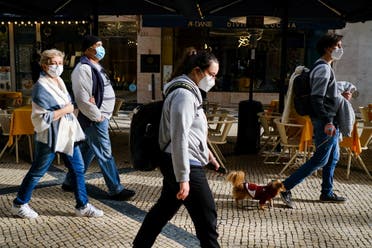 People wearing protective masks walk in Lisbon, Portugal, December 21, 2021. (File photo: Reuters)
"Our findings suggest that mask-wearing can shift from being a self-protection measure during the COVID-19 pandemic to a self-presentation tactic in the post-pandemic era," the researchers said.
Even during mundane activities like dog walking, people were generally less motivated to wear a mask because they said they do not care about their looks.
However, those who perceive themselves as good looking said they would not wear a mask because they want to make a good impression on others.
Countries all over the world enforced mask wearing in effort to curb the spread of COVID-19 during the pandemic.
While most rules have since been dropped globally, some individuals still choose to wear a mask regardless.
Masks were proven to help reduce the likelihood of spreading or contracting the virus if used properly along with good hand hygiene and social distancing.
The World Health Organization (WHO) still recommends people wear masks where social distancing is not possible like on crowded public transportation buses or subways, for example.
Read more:
UK govt discussed using 'fear' and 'guilt' to make public follow COVID-19 rules
White House says no consensus on COVID-19 origin following reports of lab leak