New meta-analysis reaffirms 'serious health risks' from COVID-19 infection in pregnancy – ESHRE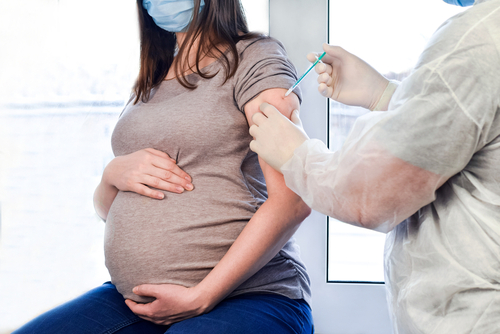 Against a background of high neonatal and maternal relative risk, investigators from a new meta-analysis urge COVID vaccination for all women of childbearing age; 'consistent and compelling' evidence
A new meta-analysis involving more than 13,000 pregnant women has found 'serious health risks' in those infected with the COVID-19 virus.(1) They faced a seven-times greater risk of dying and a significantly elevated risk of ICU admission or pneumonia than those not infected. Moreover, the study also suggested that infection during pregnancy increases the risk of intensive care for the baby.
'The study provides the most comprehensive evidence to date suggesting that COVID-19 is a threat during pregnancy,' said the study's lead author in a press statement. 'Our findings underscore the importance of COVID-19 vaccination for all women of childbearing age.' While it was hard to put together the evidence in the past, she added, this meta-analysis now provides 'clear, consistent and compelling findings'.
This, of course, is not the first warning about the risks of COVID-19 in pregnancy, nor of neglecting the vaccine.(2) Data from many studies have indicated that COVID infection during or ahead of pregnancy raises the risk of mortality, ICU admission, preterm birth, stillbirth, pre-eclampsia and neonatal care admission. But according to this latest report these studies have often been small, difficult to synthesise and heterogenous in design. This latest meta-analysis, however, which pooled individual patient data from 12 eligible studies involving 13,136 pregnant women, sought to avoid such anomalies. Almost all COVID infections in the study were confirmed by PCR testing, with 11,194 women negative during pregnancy and 1942 positive.
Results of the comparison showed that that COVID-19 during pregnancy increased the risk of maternal mortality, ICU admission, mechanical ventilation, any critical care, pneumonia or thromboembolic disease. In some of these, the relative risks with non-infection were very high: maternal mortality RR 7.68; ICU RR 3.81, ventilation RR 15.23; any critical care RR 5.48; and pneumonia RR 23.46. Neonates born to infected women were also more likely to be admitted to critical care, RR 1.86. However, unlike some findings from other studies, infection in this analysis was not linked to stillbirth.
The authors note that the results aimed to provide 'robust and high-quality' estimates of the impacts of SARS-CoV-2 infection during pregnancy as compared with uninfected pregnancies. And as such they conclude that the findings 'underscore the need for global efforts to prevent COVID-19 during pregnancy through targeted administration of vaccines and non-pharmaceutical interventions'. This is taken a step further in a summary box added to the study report in which access to preventative and therapeutic measures is described as 'an urgent priority'.
Indeed, the authors' press release – if not the published study report – calls on 'all countries' to give COVID vaccines priority in pregnancy 'in order to save lives and prevent health problems'. To support her case, the first author adds that, despite the well established serious health risks, more than 80 countries still do not recommend that all pregnant and lactating women get the COVID vaccine. This is apparent in many national guidelines still current in which vaccines are usually included in a range of mitigation strategies – and indeed the joint IFFS/ESHRE statement on vaccines in pregnancy, albeit from 2021, concluded that 'the decision to receive or decline the vaccine rests on individual risk, availability of the vaccine, and the potential recipients' concerns regarding unknown risks of the new vaccines'.(3) Recent studies have somewhat laid to rest any fears of that the vaccines might negatively affect ovarian function, at least in an IVF model.(4)
Meanwhile, despite the 80 vaccine hesitant countries identified by the study authors, major health regulators all seem to acknowledge the risks posed by COVID infection in pregnancy; 'getting a COVID-19 vaccine can help protect you and your baby from serious health problems', advises the CDC; the UK health ministry 'strongly recommends' vaccination in pregnancy; France 'recommends' a full panel of vaccinations for pregnant women; and in Germany, after much deliberation, authorities in 2021 issued a recommendation for pregnant and breastfeeding women to get vaccinated. However, as the authors of the meta-analysis state, many women of childbearing age still remain unvaccinated and this latest evidence 'underscore the importance of COVID-19 vaccination for all women of childbearing age'.
1. Smith ER, Oakley E, Grandner GW, et al. Adverse maternal, fetal and newborn outcomes among 1942 pregnant women with SARS-CoV-2 infection, as compared to 11194 negative pregnancies: A individual participant data meta-analysis. BMJ Global Health 2023; 8:e009495.
doi.org/10.1136/ bmjgh-2022-009495
2. See https://www.focusonreproduction.eu/article/News-in-Reproduction-COVID-vaccinations
3. Ory S, Veiga A, Horton A, Gianaroli L. Joint IFFS/ESHRE statement on COVID-19 vaccination for pregnant women and those considering pregnancy. Hum Reprod Open 2021, hoab016. https://doi.org/10.1093/hropen/hoab016
4. Dahdouh EM, Balayla J. SARS-CoV-2 Vaccines and IVF outcomes: so far, so good! Fertil Steril 2023;
doi.org/10.1016/j.fertnstert.2023.01.016