Nevada county's health board to consider banning COVID, flu vaccines – The Seattle Times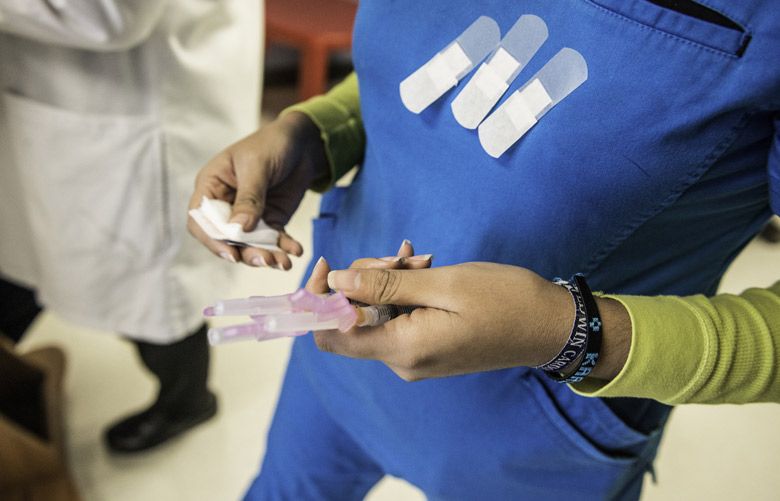 LAS VEGAS — The Elko County Board of Health is scheduled to meet Wednesday to discuss and consider placing a moratorium on COVID-19 and flu vaccines in the county.
The board also will consider the discontinuation of local advertising for COVID-19 and flu vaccines, pending "further investigation and results of the Florida Supreme Court case to investigate the wrong doing related to COVID-19 vaccines," the agenda says.
In December, Florida Republican Gov. Ron DeSantis requested that the Florida Supreme Court convene a grand jury to investigate any possible side effects of COVID-19 vaccines and to get more information from pharmaceutical companies.
Jon Karr, an Elko County Board of Health commissioner, said he thinks those agenda items never should have been put on the agenda and resulted from a miscommunication.
A concerned resident spoke about possible problems with vaccines, such as heart problems and inflammation, Karr said. The resident pointed to DeSantis' efforts to investigate COVID-19 vaccines as well as right-wing editorials about vaccines, he said.
"We've already been notified by legal that we don't have the authority to issue a moratorium," Karr said. "I believe it's just a miscommunication, and I'm hoping it gets tabled indefinitely."
Karr does not see the agenda items moving forward, as the commissioners do not have the right to issue a moratorium or control advertising in the county.
"People can get the vaccine, or they can choose not to get the vaccine," Karr said. "You have the right to work with your doctor and choose which vaccines you should and should not get. … Not some rural commissioners who have more insight."
Dave Sheehan, public information officer at the Southern Nevada Health District, said in an email to the Las Vegas Review-Journal that health officials recommend people take steps to protect themselves and others as respiratory illnesses like COVID-19 and flu continue to circulate in the community.
"Staying up to date with COVID-19 vaccines is one of the most effective ways to protect against serious illness," Sheehan said in the email. "The Health District also recommends people get their seasonal flu vaccine, wash their hands often with soap and running water, get tested for COVID-19 if needed and stay home if they are sick."