Matt Hancock: Covid campaigners fly banner over I'm A Celebrity jungle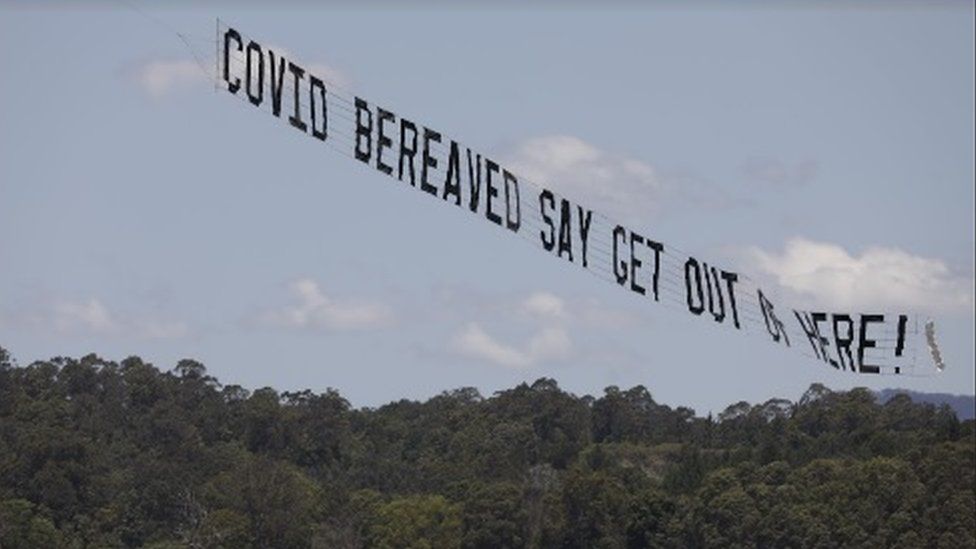 The families of some of those who died during the Covid-19 pandemic say they have flown a message over the I'm A Celebrity… Get Me Out Of Here! camp, demanding the removal of Matt Hancock.
Campaign groups 38 Degrees and Covid-19 Bereaved Families for Justice posted photos of a banner, which read: "Covid bereaved say get out of here!"
Hancock, who was health secretary at the height of the pandemic, is in the TV show's jungle camp in Australia.
Broadcaster ITV has not commented.
In a statement, Lobby Akinnola from Covid-19 Bereaved Families for Justice, who lost his father to the disease, said: "Matt Hancock isn't a 'celebrity', he's the former health secretary who oversaw the UK having one of the highest death tolls in the world from Covid-19 whilst breaking his own lockdown rules."
Hancock was forced to resign as health secretary in June 2021 after breaking the government's social distancing rules by kissing a colleague.
Matthew McGregor, chief executive of 38 Degrees, said: "No-one has forgotten how Matt Hancock conducted himself during the Covid-19 pandemic: not the general public, not his campmates, and certainly not those who lost loved ones.
"Our message emblazoned across the skies makes crystal clear to Matt Hancock: you should be representing the people of West Suffolk and giving Covid Bereaved Families the answers they deserve, rather than playing games for dingo dollars, plastic stars and a [reported] £400,000 paycheck."
The airborne protest came after more than 44,000 people signed a petition calling for ITV to reverse its decision to include the serving West Suffolk MP on the programme.
The issue of Hancock's resignation came up in the jungle when fellow contestant Scarlette Douglas described the MP's behaviour as "a slap in the face" by someone who had set the rules and had then broken them.
Responding on the show, he said there was "no excuse" for the actions that led to his resignation. Hancock added: "Look, I know how people felt. That's why I resigned, right?"
He later became emotional as he told campmates that what he is "really looking for is a bit of forgiveness".
Hancock has been suspended as a Conservative MP, and Prime Minister Rishi Sunak said on Tuesday that the former minister's future in Parliament would be decided by voters at the next election.
"Ultimately, the question is for his constituents at an election but I think it was right that the Chief Whip removed the conservative whip from Matt Hancock. It's a decision I support and I was very disappointed that he decided to go on the show," the prime minister said.
Before he entered the jungle, Hancock said he was joining the show to raise dyslexia awareness, and he has told his fellow campmates he wants to show another side to politicians.