JNJ stock falls as company is scaling back COVID-19 vaccine production (NYSE:JNJ) – Seeking Alpha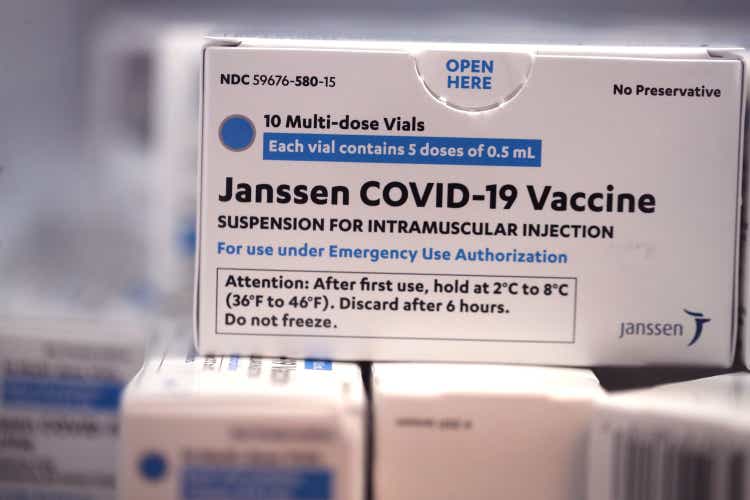 Amid falling demand, Johnson & Johnson (NYSE:JNJ) has significantly cut back the production of its COVID-19 vaccine and terminated manufacturing agreements with companies such as Catalent (NYSE:CTLT) and Sanofi (NASDAQ:SNY) (OTCPK:SNYNF) in recent months, The Wall Street Journal reported Friday.
J&J's (JNJ) production agreement for the shot with Merck (NYSE:MRK) also hangs in the balance. The deal signed with government involvement has yet to yield the expected results, and the companies are currently in talks for arbitration. A Merck (MRK) spokesperson said the company looks forward to presenting its stand to an arbitration panel.
Meanwhile, a Sanofi (SNY) spokesperson said that J&J (JNJ) ended the COVID-19 vaccine production deal with the company due to weak demand.
In November, contract manufacturer Catalent (CTLT) disclosed it agreed to the early termination of COVID vaccine agreements with J&J (JNJ) for the fill-and-finish part of the production process. The company received $54M from J&J (JNJ) to settle the contracts in October.
The report comes as J&J (JNJ) is scheduled to report its Q4 2022 results later this month. With its Q1 2022 results, the company suspended its sales guidance for the vaccine citing a global supply glut and uncertain demand.
While J&J (JNJ) was the third company in the U.S. to win FDA nod for a COVID-19 vaccine, rivals Pfizer (PFE)/ BioNTech (BNTX) and Moderna (MRNA) have dominated the U.S. immunization drive.
J&J's (JNJ) vaccine was linked to rare blood clot formation, which prompted the Centers for Disease Control and Prevention (CDC) to pause its use in 2021.
However, weeks later, the regulators reintroduced the vaccine, updating the patient fact sheets to reflect the rare side effect.