In brief: Trends driving humanitarian need in 2023 – The New Humanitarian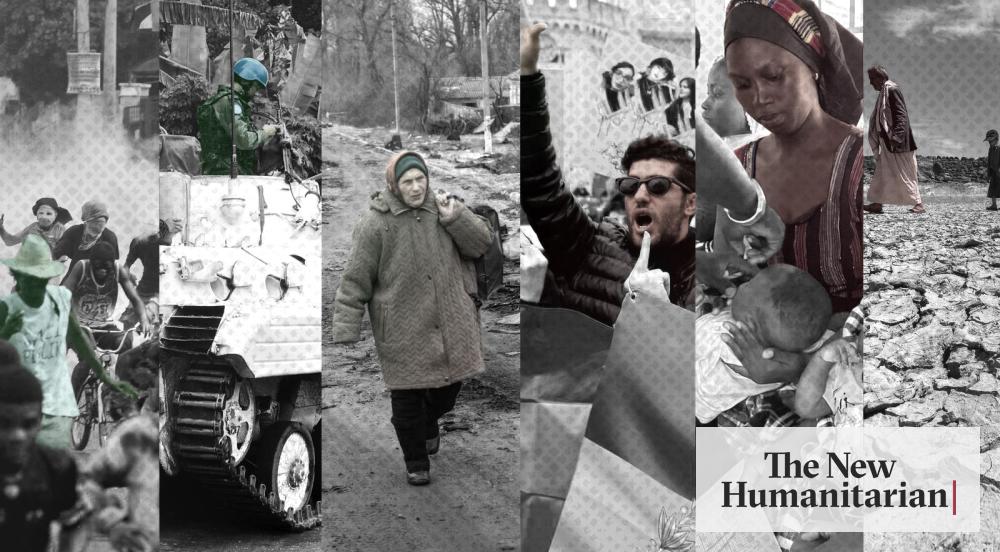 Here's a quick look at what's on our minds as we consider the trends fuelling the world's humanitarian crises in 2023. This list is informed by our coverage from humanitarian hotspots around the globe and by our editors' research and discussions with analysts, aid workers, and individuals whose lives have been upturned by conflict and disasters. For more details, read Trends driving humanitarian crises in 2023 (and what to do about them).
Soaring debt: Less to spend on preventing and responding to crises
Dozens of countries – home to half the world's poorest people – need urgent debt relief, the UN says. Government debt, fuelled by borrowing during the pandemic, has been turbocharged by high interest rates on the back of hyperinflation aggravated by Russia's invasion of Ukraine. It's tough for governments to spend on the things that help communities withstand crises – social services, healthcare, safer infrastructure, smarter disaster recovery – when they're putting so much money towards paying off debt. The country spending the most to repay its public debt? Somalia, which is already facing famine amid an unprecedented drought.
Colonialism: Old legacies and modern-day imperialism fuel new needs
Colonial legacies continue to foster crises around the globe. Gang violence is often blamed for the rapidly deteriorating situation in Haiti, but its roots largely lie in the impossible debt France foisted upon the world's first Black republic. Likewise, much of the calamitous situation in the Sahel can be traced back to the colonial era and misguided interventions since. And Russian President Vladimir Putin doesn't hide the fact that imperialism lies behind his war in Ukraine, which has led to a massive new humanitarian crisis and worsened others. Calls to address the legacies of racism, colonialism, and imperialism are growing – within the aid sector and at a geopolitical level. Now there's also a clamour for alternatives to troubling neocolonial policies – from abusive Western military interventions to financial institutions saddling poor countries with hefty climate debts.
UN peacekeeping: A loss of faith leads to security vacuums
From the Democratic Republic of Congo to Mali to Central African Republic, humanitarian crises risk being made worse because local populations and/or host states have lost faith in UN peacekeeping missions, paving the way for rebel gains, mercenary deployments, or security vacuums. The largest missions face uncertain futures. Communities are sceptical they can end wars even with robust mandates, and frosty regimes view them as sovereignty threats. What to do? Some argue that missions should focus more on local peace efforts, recruiting staff with contextual knowledge, and serving communities rather than host states.
Mismanaged migration: More people on the move, fewer protections
The climate crisis, skyrocketing prices on the back of the pandemic, and Russia's invasion of Ukraine drove more than 100 million people to cross borders to escape conflict, disasters, poverty, and hunger in 2022. At the same time, many countries demonstrated an ever-more brazen willingness to erode protections for refugees and to violate rights. The coming global economic slowdown will only increase the need for people to move in 2023, even as xenophobic policies take hold in key destinations, from Türkiye to the UK, from EU nations to the US. Political will to manage this rising global movement in a way that respects human rights is in short supply. Yet the EU's response to Ukrainian refugees has shown that – when the political will exists – countries can mobilise a humane and dignified response to mass displacement and migration.
The Ukraine war: Driving up costs, driving away attention
There's no question that the Russian invasion has been catastrophic for the people of Ukraine, especially those living near the front lines, under bombardment, or forced to flee the violence. But the vast majority of the 230 million people the UN proposes to help with the $51.5 billion it has asked for in 2023 do not live in or around Ukraine. From Yemen to Ethiopia, Myanmar to Afghanistan, and Syria to Somalia, other crises and the suffering of tens of millions of people are being pushed further into the background. Even before Ukraine, some of the world's worst crises were badly underfunded, and now the concern is that places like Yemen, Ethiopia, and Myanmar will be pushed even further onto the backburner. When a country like Syria has been at war for 11 years, attention wanes and donors are just less likely to open their coffers, even with needs hitting record highs.
'Great power' rivalry: Geopolitical battles that upend millions of lives
With no end in sight to the fighting in Ukraine, and rising tensions between the US and China, confrontations between major powers will likely influence humanitarian crises again in 2023 and beyond. Aside from the impacts of the war in Ukraine, US-Russia competition for political influence is having humanitarian consequences in other parts of the world. The Kremlin-linked Wagner Group has been accused of committing human rights abuses in Central African Republic, Libya, Mali, Sudan, Syria, and elsewhere. Russia's invasion of Ukraine has led to speculation that China might soon follow a similar path and invade Western-aligned Taiwan. One glimmer of hope: The global fallout from Russia's invasion of Ukraine could act as a cautionary tale for China and the US, encouraging a more responsible approach to navigating their rivalry.
Record hunger: Money can't buy a way out of food shortages
Much of the globe will be going hungry again in 2023, and many parts – including Afghanistan, India, Peru, Somalia, South Sudan, Sudan, and Yemen – will be even hungrier. That means the humanitarian system is under strain like never before. It needs to find a record $51.5 billion to cover the needs of 230 million people in 69 countries. And the money is the "easy" part: finding food will be trickier than ever. A key culprit? The invasion of Ukraine, once again. Russia is the world's leading fertiliser producer, but supply has been squeezed by the indirect impact of Western sanctions. As a result, farmers are either applying less fertiliser or reducing the amount they grow – either way it means smaller yields across the globe and growing hunger.
Global health declines: Pandemic healthcare disruptions take their toll
The COVID-19 pandemic – which is still not over – reversed hard-won progress against various viruses and diseases, including tuberculosis, HIV, and malaria. While the world focused much of its attention on getting and making COVID-19 vaccines, 2019 to 2021 saw the "largest sustained decline in childhood vaccinations" in three decades, with supply chain issues, vaccine hesitancy, and a single-minded focus on containing the pandemic all contributing to the downward trend. COVID-19 showed the consequences of years of under-investment in healthcare systems. Major players are now calling for an investment in primary healthcare, and ideally equitable universal health coverage, to better weather future storms. It's not clear where that money will come from, though.
Gender-based violence: New needs add to pandemic surge
As COVID-19 took hold back in 2020, UN Secretary-General António Guterres acknowledged a "shadow pandemic" of gender-based violence (GBV). Nearly three years on, rising needs are outpacing upticks in funding, and new funds are failing to reach the local groups that are closest to women who need help. In the first quarter of 2022, amid Somalia's drought and food shortage, the number of women who reported intimate partner violence rose to 50%, up from 43% in the same period in 2021. Since Russia's invasion of Ukraine, UN Women estimates rising rates of GBV, as well as a decline in services for survivors. The UN also recorded incidents of GBV amid political crises in Haiti and Venezuela in late 2022. That all comes on top of the pandemic-related burdens women faced and often still confront, including an increase in unpaid care work, and reduced access to sexual and reproductive health services.
Youth activism: Risks of upheaval as illiberal regimes face calls for change
Democracy is retreating in many countries; illiberal regimes are consolidating. Given the well-documented correlation between authoritarian rule and humanitarian crises, these are worrying trends. In Iran, Sudan, and China, defiant decentralised protest movements have sprung up to resist illiberal and authoritarian regimes. While activism may prompt positive change down the road, political upheaval in the shorter term often triggers violent crackdowns, hunger, and instability.