IDPH: Only 3 counties at "high" COVID-19 risk; hospitalizations falling – Shaw Local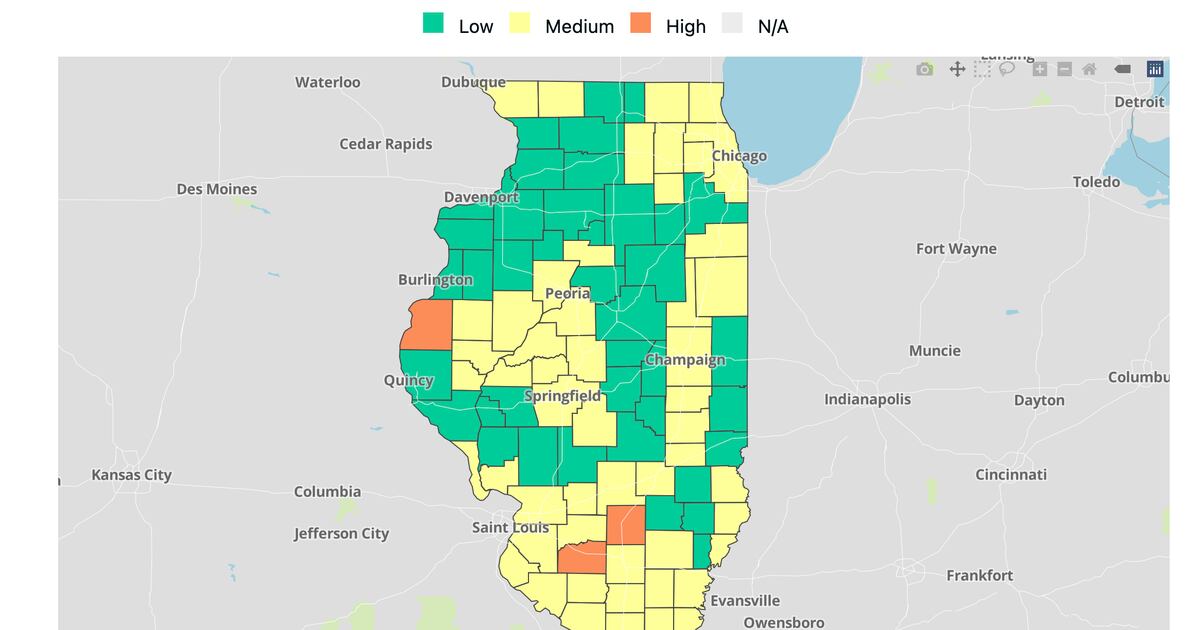 The Illinois Department of Public Health announced that three counties are considered at "high" risk for COVID-19, down from 28 a week ago. An additional 56 counties are at "medium" risk, up from 45 last week.
In northern Illinois, there are no counties at "high" risk. The counties at "low" risk are: Will, Grundy, Boone, Winnebago, Whiteside, Carroll, Ogle, Lee, La Salle, Bureau and Putnam counties.
"I am encouraged to see COVID-19 community levels once again declining and hospital capacity remaining stable this week," IDPH Director Dr. Sameer Vohra said in a news release. "Thank you to all Illinois residents who have continued to protect themselves and their loved ones from infection. IDPH is closely monitoring the XBB 'Kraken' variant which is spreading in the northeastern United States and leading to increased cases and hospitalizations. Although we are currently seeing low rates in Illinois at about 8% of clinical samples, it is important for all of us to prepare for and be aware of this emerging variant. Please continue to use all of the tools available to protect yourself and your loved ones from COVID-19, the flu, and other respiratory diseases, especially those most at risk for severe disease."
The CDC recommends the following measures for people in areas that are rated at High Community Level for COVID-19 transmission:
• Wear a well-fitting mask indoors in public, regardless of vaccination status (including in K-12 schools and other indoor community settings)
• If you have household or social contact with someone at high risk for severe disease consider self-testing to detect infection before contact consider wearing a mask when indoors with them
• Stay up to date with COVID-19 vaccines and boosters
• Maintain improved ventilation throughout indoor spaces when possible
The IDPH announced Friday 16,281 new confirmed and probable cases of COVID-19 and 20 additional deaths over the past week.
As of late Thursday, 1,395 individuals in Illinois were reported to be in the hospital with COVID-19, down from 1,687 a week ago. Of those, 169 patients were in the ICU and 62 patients with COVID-19 were on ventilators.
The seven-day rolling average of vaccines administered daily is 12,702 doses, including the bivalent booster and first doses. Of the state's eligible population, more than 18% have received the bivalent booster dose.
Weekly case rate per 100,000: 127.8
Percentage of ICU beds available: 17%
COVID-19-diagnosed hospital admissions (seven-day rolling average): 135 (down 31 from a week ago)
Weekly deaths reported: 20 (same as the previous week)
Illinois has seen 3,997,877 total cases of the virus, and 35,927 people have died.
Vaccine update: As of Friday, the IDPH reported a total of 26,385,075 doses of COVID-19 vaccines have been distributed statewide, with 25,827,307 vaccines administered.
As of Friday, 8,419,973 Illinoisans have been fully vaccinated, or 66.09% of the population. Illinois has a population of 12,741,080 people.
CDC numbers:
Among Illinois residents 5 and older:
Fully Vaccinated: 8,957,076 (75.1%)
At Least 1 Dose: 9,912,476 (83.1%)
Among Illinois residents 18 and older:
Fully Vaccinated: 7,850,361 (79.7%)
At Least 1 Dose: 8,685,869 (88.1%)
Among Illinois residents 65 and older:
Fully Vaccinated: 1,862,455 (91.2%)
At Least 1 Dose: 2,012,457 (95%)
There can be as much as a 72-hour delay in reporting from health care providers on vaccines administered.
In northern Illinois, here is the percentage of the population fully vaccinated by county:
Chicago: 69.35%
Suburban Cook: 73.65%
Lake: 71.59%
McHenry: 66.77%
DuPage: 76.40%
Kane: 67.14%
Will: 67.51%
Kendall: 70.78%
La Salle: 58.90%
Grundy: 58.39%
DeKalb: 57.01%
Ogle: 57.40%
Lee: 59.07%
Whiteside: 52.07%
Bureau: 57.12%