House District 5B: Wiener says he brings an outsider's perspective
BRAINERD — Mike Wiener isn't interested in a career in politics — instead, he sees his state house candidacy in the mold of the citizen legislator, fighting for issues based on principle rather than political expediency.
"I believe that this is a service position," Wiener said during a Tuesday, Aug. 2, phone interview. " … We're working here for the people. And then our government was set up of the people, by the people and for the people. And I look at that and I take that responsibility very, very seriously."
Just a few years earlier, the 46-year-old small business owner and grass-fed beef farmer in rural Long Prairie did not envision his foray into pursuing a seat in the Minnesota House of Representatives. But now, days before the Tuesday primary election to determine if his name will appear as the Republican candidate on the November ballot in House District 5B, Wiener said he's focused on bringing his political outsider sensibilities to a state Capitol rife with self-interest.
"This is the year of political outsiders," said Wiener, who earned the local party endorsement. " … I think people are tired of the status quo, and they want different ideas and different mentalities when it comes to politics."
A husband and father of nine children, Wiener lives about a half-mile from where he grew up and together with his family, has operated an animal bedding and biomass company repurposing waste wood for 15 years.
During that same stretch of time, Wiener also served as a member of the Planning Commission in Todd County, eventually as chair. He said this experience helped him become adept at explaining complicated rules and regulations to often emotional people. He is also a regular attendee of his local township board meetings and said he's "kind of a nerd" about diving deep into the weeds of policies or ordinances. This trait, he said, is one of the reasons he hopes to earn people's votes next week.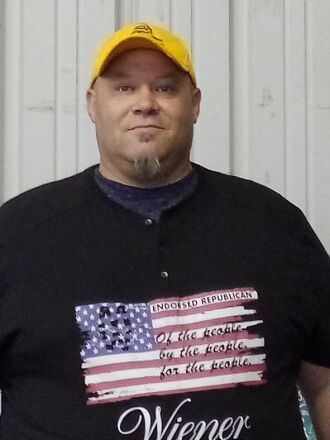 "I have an inquisitive mind and I look at things. So even as — when it comes to politics on the local level, county commissioners, township board, stuff like that, I think, 'Why? Why do you do things this way?'" Wiener said. " … A lot of times you'll have politicians and people who have been in office, who just take it at face value — 'This is the way it is, this is the way we've always done it.' That's not the way I do things."
Wiener said he became involved with the Todd County Republicans before the 2020 election and became deputy chair, motivated by his frustration with the government's response in the early months of the COVID-19 pandemic. Conversations with lawmakers revealed to him there was more at play than simply protecting health, he said.
"After seeing small businesses getting closed down while large businesses are staying open, I said, 'This isn't right,'" Wiener said. " … And when I contacted legislators, I think the best quote was, 'It's not politically expedient at this time to do anything.' So I saw more of an issue where a political career was more important than our constitutional rights."
If elected to the Legislature, Wiener said his focus would be as local as possible. He said he's gained a wider perspective on this by speaking with other candidates for a variety of offices in the area.
Drugs in rural Minnesota and workforce development are among his top issues. Wiener said local resources could be better utilized to attract companies to the region, generating jobs and staving off workforce loss as baby boomers age. He pointed to the wood product plant planned in Cohasset as an example.
"We have to come up with some plans and I don't see people looking to the future for them, Wiener said. " … As a business owner, you don't just look at today. 'Yep, we've got contracts. This is looking great. That's looking great. We're good to go.' No. You're always looking to the next step, to the next step, to the next step."
Other issues of importance to Wiener include preventing Minnesota taxpayers from funding abortions, protecting Second Amendment rights and pursuing legislation to ensure election integrity.
On the issue of abortion, Wiener said tax dollars could instead be spent on supporting people through pregnancy and promoting adoption. When asked whether he would support an exception to any law banning abortion, Wiener said the number of abortions resulting from rape or incest is relatively small and making an exception results in bad law. Adoption is a viable option in those situations and others, he said.
Wiener said the laws protecting the right to bear arms are under constant attack and he would fight back against any red flag law. These laws generally allow firearms to be temporarily confiscated if a person is deemed by a court to be at risk of harming themselves or others. Wiener said he also supports constitutional carry — or the ability to carry a firearm in public without a permit — and stronger protections for people defending their own property.
On the issue of election laws, Wiener said he supports requiring an ID to vote and believes some of the changes made to the rules governing mail balloting during the 2020 election should be closely examined. He noted an enormous amount of money is spent preventing the circulation of counterfeit money, but by contrast, in his view, elections have very little security.
"Even if there's no fraud … I still believe that our elections need to be as secure as possible, because anytime a fraudulent vote gets cast, it cancels out a legitimate vote. So I think we do need to go to great lengths to make sure that there's confidence in the system," Wiener said. "And I know after the last election, there was a lot of people that said, 'This is the most safe and secure election in history.' I don't know what evidence they have to prove that either."
Wiener said he thinks it's the wrong move for candidates to force a primary election while ignoring party endorsements. Local conventions might only attract a small subset of voters, but he said it should be considered a sample size of the electorate showing the broader marketability of a candidate. Primaries force candidates to spend money fighting among themselves, he said, rather than moving the objectives of the party forward as a whole.
"What you're doing is you're pricing it out of the average person's realm of running for office. It takes away the opportunity of the citizen legislator, because now it all comes down to money," Wiener said. "And I believe that money in politics is corrupted so bad that that's the last thing we want to do is stop grassroots candidates by going to a strictly primary system."
Although Wiener said he's confident the Minnesota House will turn red this November, he finds value in talking to people with whom he might not agree and articulating his beliefs.
"It does kind of bother me when I see the confrontational politics, where — both sides seem to do this sometimes, where they, you know, attack in a certain way. Let's sit down and talk about this, and we may not agree, but at least we can treat each other with respect," Wiener said. " … Just because somebody has a different viewpoint than us, they're not the enemy."
CHELSEY PERKINS, community editor, may be reached at 218-855-5874 or chelsey.perkins@brainerddispatch.com . Follow on Twitter at twitter.com/DispatchChelsey .