COVID Bivalent Booster Better vs Omicron Subvariants: Pfizer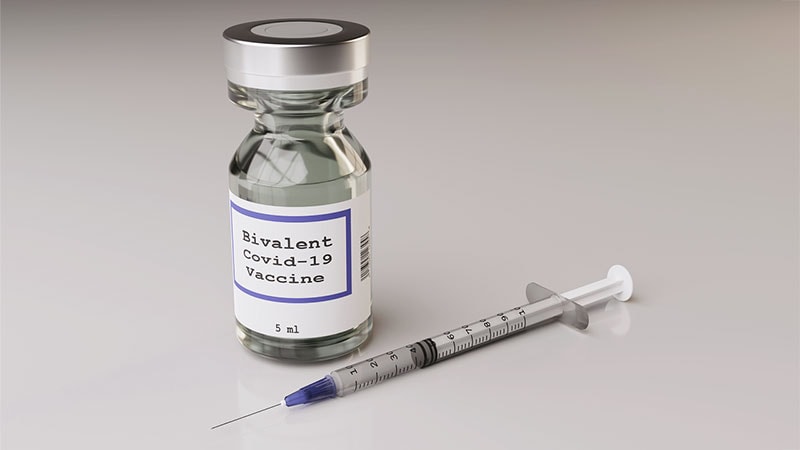 Editor's note: Find the latest COVID-19 news and guidance in Medscape's Coronavirus Resource Center.
The COVID-19 bivalent Pfizer/BioNTech vaccine triggers a stronger immune response than a fourth dose of the original vaccine, the company reported on Friday, supporting calls by public health officials for eligible people to get this booster before a potential COVID-19 surge this winter.
The company's ongoing Phase 2/3 study of their Omicron BA.4 and BA.5 bivalent — which targets both the virus' original strain and the two subvariants — shows that the vaccine offered the strongest protection in people older than 55 years.
One month after receiving a 30-mcg booster with the bivalent vaccine, those older than 55 had four times more neutralizing antibodies against these Omicron subvariants compared with people who received the original monovalent vaccine as a booster in the study.
Researchers compared the geometric mean titer (GMT) levels of these antibodies in three groups before and 1 month after boosting. The 36 people older than 55 years in the released study findings had an 896 GMT with the bivalent booster, a 13-times higher level than before this immunization.
For the 38 adults ages 18 to 55 in the study, the GMT increased to 606 at 1 month after the bivalent booster, an increase of almost 10-fold compared with baseline. In a comparator group of 40 people receiving the original vaccine as a fourth dose, the GMT was 236, or 3-fold higher than before their booster shot.
The newly released data is "very encouraging and consistent now with three studies all showing a substantial 3-4 fold increased level of neutralizing antibodies versus BA.5 as compared with the original booster," said Eric Topol, MD, director of the Scripps Research Translational Institute in La Jolla, California, and editor-in-chief of Medscape Medical News.
Pfizer and BioNTech announced the updated findings in a November 4 press release.
A booster dose of the BA.4/BA.5-adapted bivalent vaccine is authorized for emergency use by the US Food and Drug Administration for ages 5 years and older. The safety and tolerability profile of the Pfizer/BioNTech bivalent booster remains favorable and similar to the original COVID-19 vaccine, the company reported.
Until recently, the BA.5 Omicron variant was the dominant strain in the United States, but is now getting elbowed out by the subvariants BQ.1.1, BQ.1, and BA.4.6, which together make up almost 45% of the circulating virus.
Some Skepticism
"It is important to note that these data are press-release level, which does not allow a view of the data totality," said Hana El Sahly, MD, professor of molecular virology and microbiology, Baylor College of Medicine, Houston, Texas, when asked to comment.
"For example, there may be significant differences between the groups, and the release mentions at least one difference that is of importance: the interval since the last vaccination which often affects the response to subsequent boosting," she said.
El Sahly added that the findings are not surprising. "In the short term, a variant-specific vaccine produces a higher level of antibody against the variant in the vaccine than the vaccines based on the ancestral strains."
More researcher results are warranted. "These data do not indicate that these differences between the two vaccines translate into a meaningful clinical benefit at a population level," El Sahly said.
An Uncertain Winter Ahead
"As we head into the holiday season, we hope these updated data will encourage people to seek out a COVID-19 bivalent booster as soon as they are eligible in order to maintain high levels of protection against the widely circulating Omicron BA.4 and BA.5 sublineages," Albert Bourla, Pfizer chairman and chief executive officer, stated in the release.
The updated data from the Pfizer/BioNTech study are "all the more reason to get a booster, with added protection also versus BQ.1.1, which will soon become dominant in the US," Topol predicted.
It is unclear when the next surge will happen, as COVID-19 does not always follow a seasonal pattern, at least not yet, El Sahly said. "Regardless, it is reasonable to recommend additional vaccine doses to immunocompromised and frail or older persons. More importantly, influenza vaccination and being up-to-date on pneumococcal vaccines are highly recommended as soon as feasible, given the early and intense flu season."
Damian McNamara is a staff journalist based in Miami. He covers a wide range of medical specialties, including infectious diseases, gastroenterology, and critical care. Follow Damian on Twitter: @MedReporter.
For more news, follow Medscape on Facebook, Twitter, Instagram, YouTube, and LinkedIn.