Baton Rouge area may face another COVID surge — but here's why it may not be as deadly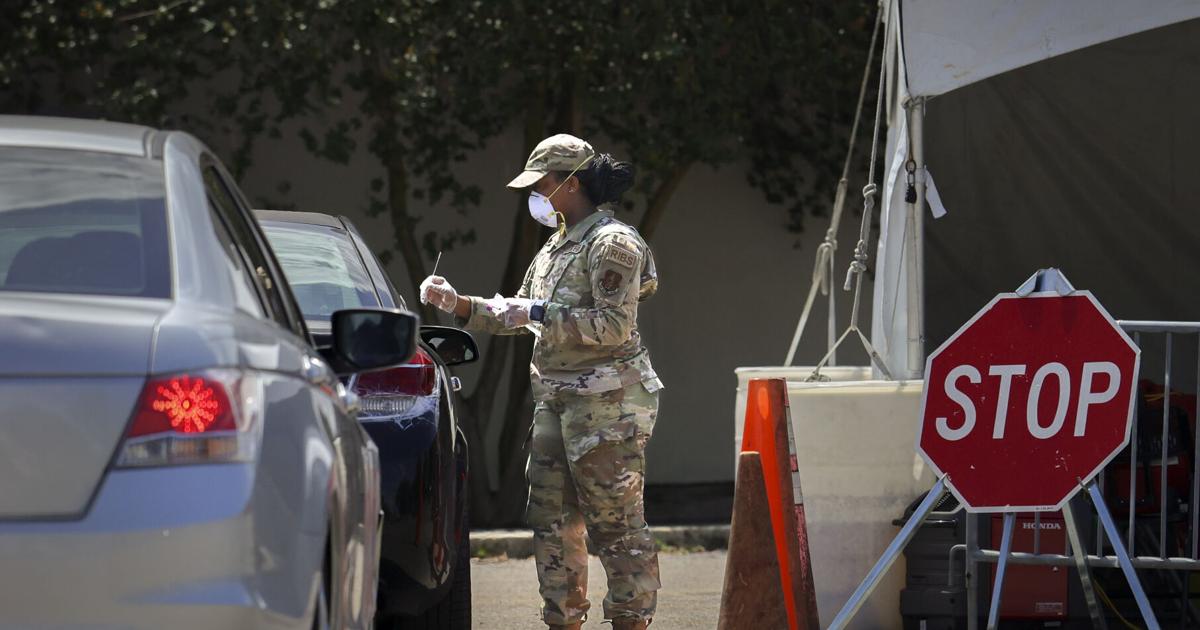 Louisiana and the Baton Rouge area are in the midst of another surge of COVID cases, state health and local hospital officials said. And things are probably worse than the official numbers suggest because increasingly common at-home testing has led to under-reporting.
However, these experts say the health effects of this spike are proving less severe than in earlier waves of the pandemic. That's because the current strains of the Omicron variant are less virulent, the public has greater immunity through vaccines and natural antibodies, and treatments have become better and more widely available.
Some hospital officials in Baton Rouge said they have seen an increase in people reporting COVID-like symptoms. And test positivity rates in some areas have approached 20% in recent weeks.
In the 12-parish Baton Rouge region, new cases have risen from around eight per day around Easter to about 165 per day, or a 20-fold increase, state data show.
But those numbers haven't translated into a lot of hospitalizations.
Many patients have reported fatigue, low-grade fever and some upper respiratory illness. But they generally haven't faced the more deadly respiratory problems caused by earlier versions of the coronavirus.
"They're not as sick as they have been with past surges," said Dr. Louis Minsky, chief of staff at Baton Rouge General.
Our Lady of the Lake Regional Medical Center has had around 10 COVID patients in recent days, while Baton Rouge General had 12, down from 19 last week. During the worst of past surges, those hospitals each had hundreds of COVID patients.
During the Delta wave in the fall of 2021, 20% of the people who were hospitalized were on ventilators, said Dr. Joseph Kanter, Louisiana's state health officer. Hospitalizations had hit more than 3,000 people statewide.
In the current surge, just 5% of those hospitalized are on ventilators. Hospitalizations hit 275 on Thursday, state data show.
Deaths have also remained low.
"On average, people are having much more mild symptoms with this particular surge, with this variant, at this point and time in the pandemic, than they have been," Kanter said. "And with the amount of COVID being transmitted, in prior surges, we would be well above 1,000, if not 2,000 hospitalized COVID patients — and right now we're below 300, which is remarkable."
Kanter and others think continued efforts at vaccination, as well as immunity built from exposures, have helped the state weather this surge better. That has stressed the medical system far less, so restrictive public health measures like masking and limits on public gatherings haven't been required.
Kanter noted that a U.S. Centers for Disease Control and Prevention study recently found that 95% of Louisiana residents have been vaccinated, had the virus or both. Known as a seroprevalence survey, the study relied on the testing of a random selection of recent blood samples from the state and extrapolates the testing results to the entire population of 4.6 million people.
Kanter said he believes, based on what has happened in other parts of the nation and what's starting to happen in New Orleans, that the state is closing on its peak in this surge.
Dr. Catherine O'Neal, chief medical officer for Our Lady of the Lake, noted that, since the first Omicron surge in early 2022, more of the state's elderly and most high-risk residents got booster shots.
"We're seeing success, in a way," O'Neal said. "I mean I hate to see a surge in the community, but how do you define success in a pandemic? You define it by seeing rates rise in the community but seeing not too many people get super sick from it and seeing that vaccination status really help the community get over this faster, and so far that's how it's played out."
Other experts suggested, however, that parts of the state outside the Baton Rouge and New Orleans regions, where vaccination rates among the elderly are lower, could be in for more cases in the coming weeks.
According to state figures, rates of new vaccinations remain among the lowest levels since the first versions were rolled out in late 2020.
As far as the currently vaccinated, in East Baton Rouge Parish, 56% of residents have received two shots. Most of the parishes in the region are above 50%, with the exception of Livingston, Tangipahoa and Assumption parishes.
While few experts would offer much of a prediction for what the fall may have in store, they urged people who are sick with COVID-like symptoms to isolate themselves. And they asked those who aren't vaccinated to do so — though some offered different advice on whether to get later booster rounds.
Susan Hassig, a Tulane University epidemiologist, suggested some people might want to wait until closer to the fall, when newer boosters may be available. O'Neal, the Our Lady of the Lake physician, suggested everyone should get the vaccinations and boosters for which they are eligible.